Hollywood actress Angelina Jolie flew into Ho Chi Minh City on Wednesday night to pick up a three-year-old boy she has adopted from Tam Binh Orphanage.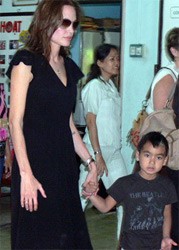 Angie and Maddox arrive in the Tam Binh orphanage. (Photo:VNE)
With her children and an entourage of nine in tow, Ms. Jolie went straight from the airport to the Park Hyatt Hotel, where she had spent Thanksgiving with Brad Pitt in November.
On Thursday morning, Angelina and her 5-year-old adopted Cambodian son Maddox went to the orphanage she had visited in January to pick up little Pham Quang Sang.
A dozen children wearing white ao dai (a traditional Vietnamese costume) and carrying floral bouquets for the movie star greeted her when she arrived at Tam Binh clad in a T-shirt and black skirt.
She looked radiantly happy and thanked Tam Binh's director, Mr. Nguyen Van Trung, and the staff for all they had done to help, and particularly for keeping hush-hush about the adoption until the last minute.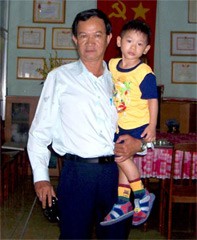 Mr. Nguyen Van Trung, director of the Tam Binh orphanage and little boy Pham Quang Sang. (Photo:VNE)
Her new son is a healthy boy with a friendly disposition and gets on well with other children though he can be a tad shy as his new mum found when she tried to gather him in her arms. He even cried a bit at first but finally relented and let her hold him.
Sang, who enjoys playing soccer, has been living at the orphanage since being abandoned at a local hospital when he was a baby. Angelina has decided to call him Pax Thien Jolie.
After the formal handover of the child, the family went to the Department of Justice to complete the adoption formalities in the presence of People's Committee vice chairman Nguyen Thanh Tai.

They returned to the orphanage in the evening to say goodbye to the staff and the boy's friends.
Ms. Jolie will schedule to give a press conference.
She is now waiting for a passport for her new son from the US Consulate General so that they can travel back to the United States together.
Related articles:
Angelina Jolie to Adopt a Vietnamese Baby
Mr & Mrs Smith to Adopt a Vietnamese Boy?
Mrs. Smith Unexpectedly Returns Viet Nam
Mr. & Mrs. Smith go to…Ho Chi Minh City