A fisherman from Quang Nam Province has discovered an ancient statue made of precious wood while fishing ten nautical miles northeast of the Cu Lao Cham archipelago.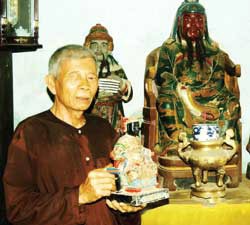 Temple keeper Le Mai with the statue in his hand
The 30cm-tall paunchy figure on a pedestal wears a mandarin's bonnet and boots, and a costume with a colorful flowery pattern all over.
The fisherman has offered the statue to the island's Hai Tang Pagoda, an ancient temple that houses quite a few centuries-old statues of the Buddha as well as a 100-kilogram bronze bell that's been there since the pagoda was founded.
"Standing on the mainland, which is 18 miles from Cu Lao Cham, you can hear the sound of the bell if the weather is calm," said the temple's keeper, 68-year-old Le Mai.