The 'Hat Boi Art Theater', or Vietnamese Classical Opera, and the Puppetry Art Troupe in Ho Chi Minh City have opened short training courses with participation of veteran artists to train young artists in the skills of Hat Boi and Water Puppetry, with an aim to keep the ancient traditional art alive for future generations.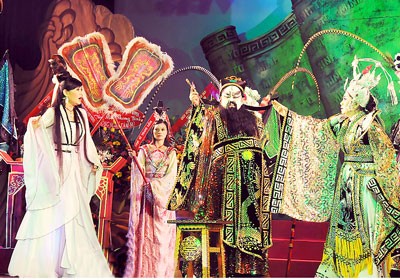 A performance by the HCMC Hat Boi Art Theater  (Photo: Sggp)

Veteran artists from Hanoi traveled to HCMC to train young talents the 17 essential ancient performing skills of Water Puppetry. These training courses have rarely been organized in the North or the South, said Meritorious Artist Do Thi Mui.
She also highly appreciated the efforts of young artists in practicing and trying to acquire the skills, as traditional art attracts fewer people these days because of low income.
While other traditional arts such as 'Cai Luong' (traditional form of opera of South Vietnam) have seen yearly enrollment in art colleges and universities, Hat Boi and Water Puppetry are taught from one generation to another through folk experience which is not learnt through books.
In this way, the HCMC Hat Boi Art Theater has currently a staff of promising young artists. However insiders worry that this form of training technique will dilute the quintessential characteristics of the ancient art form and the mastery of veterans will either be lost or misinterpreted.
They hope that local authorities launch preferential treatment policies to preserve and develop ancient traditional arts in their true form.
The People's Committee of HCMC and the Department of Culture, Sports and Tourism have funded short training courses for young artists to learn the traditional 'Hat Boi' and Water Puppetry.