An ancient incense burner has been unearthed at the historical Tien Son excavation site in Hong Linh Town in Ha Tinh Province.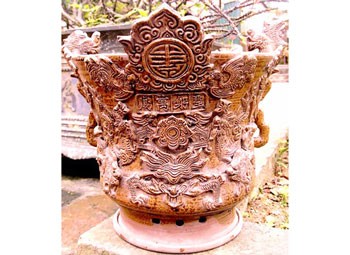 Ancient incense burner unearthed in Ha Tinh Province. (Photo: SGGP)
The cylindrical ceramic incense burner is 50 cm high and 30 cm in diametre, weighing 5 kilograms.
The antique piece has masterful decorations of unique and beautiful patterns, eight-petal flowers, two phoenix and dragons. It has a tiger head shaped-relief work on it as well.
According to experts, the ancient incense burner dates back to the Le Dynasty.