The Ha Tinh provincial Museum on July 21 found a set of three ancient jack-tree wooden bells preserved in Ha Linh pagoda in Tien Loc commune, Can Loc district.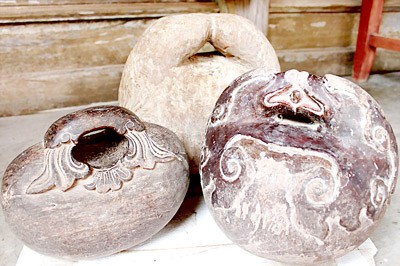 Three ancient wooden bells are found in Ha Tinh province, (Phoro: Sggp)
They include one rough wooden bell in oval shape measuring about 3.5 kg in weight, 40 cm in height and 50 cm in width. Two others, weighing about 2-2.5 kg, are engraved with images of moons and clouds.
Ha Linh pagoda also preserves a yellow stone worshiping statue measuring some 50-55 kg in weight and nearly 1m in height. The statue is said to date from the 15 th -16 th century.