The first Vietnamese translation of Larry Berman's "Perfect Spy: The incredibal Double Life of Pham Xuan An, Time Reporter and Vietnamese Communist Agrent" is set for release next week. Sai Gon Giai Phong reporters corresponded with the American author via email. Here is some of what they said.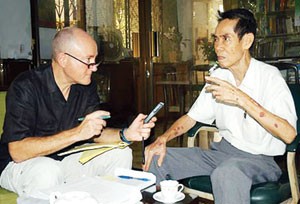 Filed photo shows Larry Berman listening to Pham Xuan An as talking about his life.
SGGP: Why do you think Pham Xuan An accepted your suggestion to write about his life?
 
Larry Berman: Pham Xuan An accepted my invitation to write about his life for two main reasons: I was an American historian and he respected my previous books, especially No Peace No Honor: Nixon, Kissinger and Betrayal in Viet Nam. I believe he wanted his story told in the US and, as he often told me, he had only a short time to live. He had lived such an extraordinary life and because he was also part of the reconciliation process, his story in more than that of a spy.
 
 SGGP: Le Monde journalist Jean Claude Pomomti, who wrote "A Quiet Vietnamese", was Pham Xuan An's friend and colleague. Was it harder for you to write about Pham Xuan An?
 
Larry Berman: Just the opposite. Pham Xuan An told me several times that because I was not his friend and had not known him during the war, I could be more objective and analytical - I am a scholar, not a journalist.
 
SGGP: You said you had written previous books on the Viet Nam War through the eyes of an American and you wrote the book "Perfect Spy" through the eyes of a Vietnamese. Do you think you were successful in the work? 
 
Larry Berman: I said that I wrote Perfect Spy through the eyes of a Vietnamese, Pham Xuan An. I can only leave it to my readers to determine if I was successful. I tried very hard to understand the war and the conflicts in An's own life through his eyes.
  
SGGP: Could you tell us more about the plans to adapt the book for the screen?
 
Larry Berman: I have received inquiries from film writers who believe that An's story should be developed into a screenplay.  Within about two weeks I will agree to one of these options and the project will get started. I hope we can shoot the film in Vietnam.
 
SGGP: Viet Nam and its friends are suing US chemical companies for compensation for Agent Orange victims. There are a few films about the lawsuit and the AO victims. Do you intend to write on this issue? 
 
Larry Berman: No, except that I am beginning a major new book on the life of Admiral Elmo Zumwalt*, who was deeply involved in this issue during and after the war. This is my next project.

* Elmo Zumwalt was the US Commander Naval Forces and Chief of the Naval Advisory Group, US Military Assistance Command in Vietnam from 1968 to 1970. He ordered the spraying of Agent Orange on Vietnam's fields and forests. His son and grandson also died because of Agent Orange.
Related Articles: