The ceremony which was held at Hanoi Opera House was attended by member of the Politburo, Secretary of the Party Central Committee, Head of the Central Commission for Propaganda and Training, Vo Van Thuong; Vice State President Dang Thi Ngoc Thinh; Minister of Culture, Sports and Tourism Nguyen Ngoc Thien.

Accordingly, five "People's Artist" titles and 8 "Meritorious Artist" titles were presented to artists who were dead. Other 79 "People's Artist" titles and 299 "Meritorious Artist" titles were offered to nominees.
Speaking at the ceremony, Prime Minister Nguyen Xuan Phuc honor artists 'outstanding contribution to development of the national culture; and the struggle for national independence, freedom and reunification, as well as national construction and defense.
He highly appreciated their efforts, talents and dedication to create high value works and described them as sparkling stars in the country's cultural and artistic sector.
This year's award-wining artists included ethnic minority artists of different ethnic groups, likely Kinh, Thai, Muong, Tay, Nung, H'Mong, Ede, Jrai and Khmer.
He hoped that these awarded artists will continue to promote their key roles in artistic activities, make contribution to the building and development of the national culture.
Popular celebrated names in HCMC are among the list, such as Tran Hanh, cai luong actress Thoai Mai (whose real name is Nguyen Thi Ngoc Hoa, cai luong actor Thanh Tuan (Nguyen Thanh Liem), cai luong actor Minh Vuong (Nguyen Van Vung), cheo-traditional opera artist Thanh Ngoan (Nguyen Bich Ngoan) and others.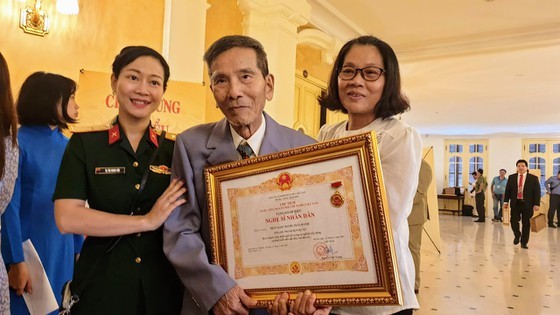 People's Artist Tran Hanh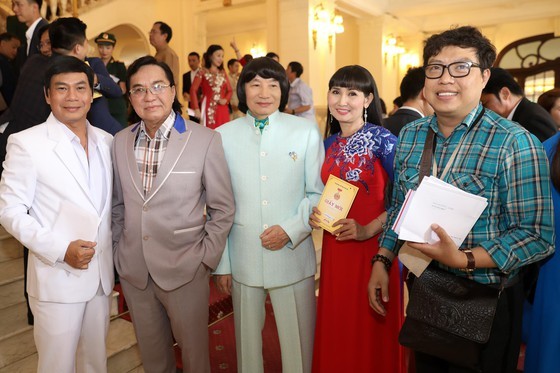 People's Artists Thanh Tuan (2nd, L) and Minh Vuong (3rd, L) at the award ceremony