A rice cake 396 times bigger than a traditional one and weighing 200 kilograms was recognized March 20 as the largest of its kind in Vietnam.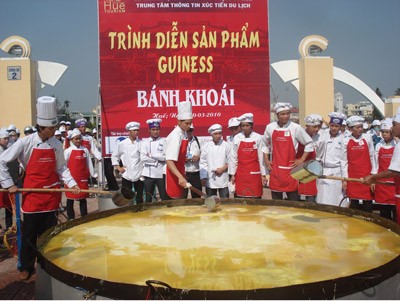 Cooks prepare the country's biggest rice cake on March 20 in Hue. (Photo:SGGP)
The Thua Thien-Hue Department of Culture, Sports and Tourism organized a ceremony the same day to announce a tourism promotion scheme for the year and presented the giant rice cake known as banh khoai.
Hue is famous for its banh khoai, a small, crispy yellow pancake, fried with shrimp, pork and bean sprouts, and several kinds of vegetable with sauce.
Phan Anh Dung, chairman of the Hue Kitchen Club, said it took 35 people to make the cake. Cooks used 20 kilograms of flour, 120 eggs, 5 kilograms of pork, 5 kilograms of pork bologna, and 5 kilograms of shrimp and vegetables to create the cake.