LONDON, Aug 9, 2010 (AFP) - Roberto Mancini has spent big on new signings during the close-season, but it is the familiar face of Carlos Tevez that the Manchester City manager will rely on as the richest club in the world attempt to turn pounds into prizes.
Mancini has designs on challenging for the Premier League title this season, and so he should given the vast array of talent at his disposal.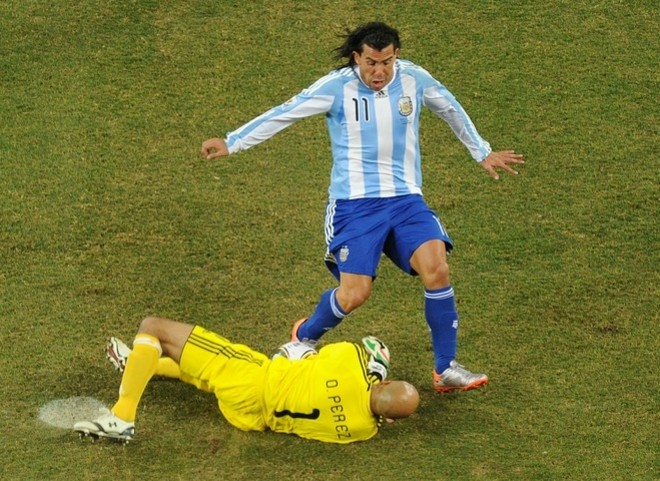 (AFP file) Tevez (R) plays for Argentina during the 2010 World Cup in South Africa
His marquee signing has been Spain winger David Silva, who arrived from Valencia in a 24 million pounds deal, but he has also brought in Germany defender Jerome Boateng, Serbia left-back Alexander Kolarov and midfielder Yaya Toure from Barcelona.
But, despite the remarkable options now at Mancini's disposal, it will be Tevez who remains the jewel in City's crown and the one player who can mastermind the club's assault on honours both at home and abroad.
Few players flourish when they leave Manchester United but Tevez has so far proved an exception to the rule as he enjoyed a phenomenal first campaign at Eastlands following his controversial switch from Old Trafford last year.
The Argentina striker plundered 23 goals in 35 appearances and he deservedly swept the board when the end-of-season awards were allocated at City.
But Mancini will demand more from his team this season and knows Tevez will need to at least replicate last season's achievements if City are to provide the club's billionaire owners with the trophies they so badly crave.
Despite Tevez's impressive form last season his relationship with Mancini was strained at times.
Tevez took exception to Mancini's double training sessions and also risked the wrath of his manager by returning late from a family break in his homeland.
He was also linked with several of Europe's leading clubs after having a decent World Cup for Argentina.
Tevez admitted he was struggling to motivate himself following the disappointment of Argentina's quarter-final humiliation at the hands of Germany and there were even fears he would not appear for pre-season training with City.
He did return however and Tevez appears satisfied for now that Mancini is the manager to continue getting the best out of him.
If Tevez can remain fulfilled at Eastlands than success is all but guaranteed and the 26-year-old says: "I would really like him (Mancini) to continue here. I would like all of us to stay and continue with this ambitious project which we have started.
"The manager has given me the continuity that every player needs to produce his best. He helped me recover my confidence.
"Thanks to the coach and my team-mates, things have worked well for me and it's the reason I have achieved such a high level.
"We are a team that is growing together. We are happy with what we've done so far but we know this season is our greatest challenge."
It remains to be seen if Tevez continues to thrive in the blue half of Manchester, but there will be no greater incentive for him than to prevent United dominating domestic issues.
And that could be the biggest factor in Mancini's favour as he tries to get the best out of the mercurial South American.