Hopes of finding survivors of China's worst mudslides in decades faded Wednesday as the death toll topped 700, with more than 1,000 people still missing under an avalanche of rock and sludge.
More than 10,000 soldiers and rescuers combed through the mountains of mud that buried a remote area of the northwest province of Gansu at the weekend, but 72 hours after the disaster, the window of survival was quickly closing.
Authorities were increasingly focused on relief efforts, with hundreds of medical workers sent to the disaster zone along with experts in epidemic prevention amid fears of an outbreak of water-borne disease.
Tens of thousands of residents of hardest-hit Zhouqu county were without adequate food and drinking water, with many roads leading to the area damaged. A Red Cross worker said it was hard to find safe ground to erect tents.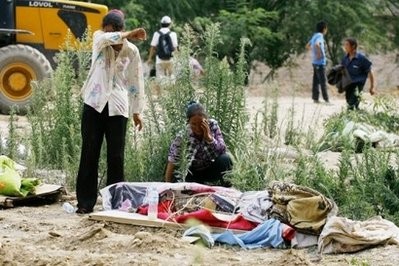 Survivors grieve for a relative killed during the deadly flood-triggered landslides in Zhouqu, in northwest China's Gansu province.
Meteorologists have predicted thunderstorms in Zhouqu over the next few days -- which could hinder clean-up efforts and frighten rattled residents already wary of sleeping on unstable ground.
"Mudslides are much more devastating than earthquakes," one rescuer was quoted by Xinhua news agency as saying.
"There is only a one percent chance that anybody could be found alive here."
A continuous stream of rescuers trudged through the zone, bearing the dead on stretchers, an AFP correspondent witnessed early Wednesday. Carts of coffins were seen at the roadside.
At least a dozen bodies were laid out at a makeshift morgue in the heat, awaiting identification. Most were covered, but one was out in the open. The stench was overwhelming, causing some residents to gag and others to run past.
The mudslides are the latest in a string of weather-related disasters, as China battles its worst flooding in a decade. More than 2,100 people were left dead or missing and 12 million evacuated before the Gansu tragedy.
On Tuesday, the director of Gansu's civil affairs department, Tian Baozhong, painted a grim picture, telling reporters the death toll had more than doubled to 702, while the number of missing had dropped only slightly to 1,042.
The mudslides levelled an area five kilometres (three miles) long and 300 metres wide, Xinhua said. Floodwaters up to three storeys high have submerged half of Zhouqu county, where one-third of the population is Tibetan.
The landslides swept homes, cars and debris into the Bailong river running through Zhouqu, choking off the waterway and triggering flooding in the mountainous area, the government said.
In Zhouqu town, workers tried to clear streets buried in thick mud and debris from more than 300 destroyed homes. Workers were also draining an unstable barrier lake created by the landslides, amid fears it could burst.
But some rescuers told state media they could not make much more progress without heavy excavation equipment, which was stuck outside the zone because of flooded roads.
Damaged roads and bridges also prevented much-needed aid from getting through. Yang Long, a doctor running a makeshift clinic at a Zhouqu school, said he had treated several adults and children for diarrhea.
"Unhealthy drinking water and food mainly caused the disease and we need more medicine," Yang told the China Daily.
The health ministry said Tuesday that no major epidemics had been reported so far.
As homeless residents milled around town, saying they did not know where to go, relief workers said the difficult terrain had
hindered their efforts to provide temporary housing in the form of more than 4,000 tents.
"We have adequate tents, but insufficient space to pitch them," Zhang Hongdong, a Red Cross worker, told Xinhua.
People who have lost homes will be helped to rebuild, the Ministry of Civil Affairs said Tuesday, pledging to complete reconstruction before winter sets in or no later than June next year.
Both US Secretary of State Hillary Clinton and UN Secretary General Ban Ki-moon extended their condolences to the relatives of the victims.