The Vietnam Association of Seafood Exporters and Processors (VASEP) has reported that the World Wide Fund for Nature (WWF) in Sweden will remove Vietnamese tra fish from their Red List in its guidance manual for seafood consumers.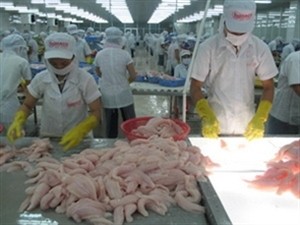 Workers processing tra fish for export at a factory in Vietnam (Photo: VNA)
This was the result of discussions between Le Thi Thu Nguyet, Vietnam 's Trade Counselor in Sweden and Ingar Naslund, who is in charge of fisheries at WWF Sweden, earlier this month.
VASEP said that Mark Powell, the WWF's International Global Seafood Program Coordinator, has recommended to global consumers that Vietnamese tra fish is safe to eat.
Earlier, tra fish products were removed from the WWF's Red List in Norway , Switzerland and the Netherlands , a month after Vietnam signed a deal with the WWF on sustainably developing tra fish in December 2010.

In Vietnam, tra fish play an important role in the agricultural economy. In 2010, the country exported about 650,000 tons of fish, earning USD1.4 billion .
However, VASEP Vice Chairman Duong Ngoc Minh said that due to certain challenges, such as a lack of materials and fries, diseases and inclement weather, it will be difficult to meet its plan of exporting USD1.45-1.55 billion  worth of tra fish in 2011.