Dong Nai Food and Industry Corporation (DOFICO) started September 19 to construct the DOFICO industrial-agricultural complex at a cost of VND1.96 trillion (US$99.96 million).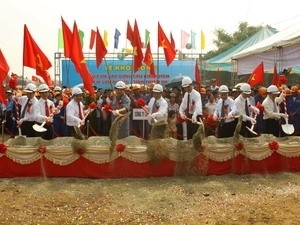 Construction of the DOFICO industrial-agricultural complex began in southern province of Dong Nai on September 19
The complex will cover more than 2,000 hectares in Xuan Loc District, the southern province of Dong Nai.
 
The project will be built with a self-contained production chain meeting international standards and apply cutting-edge technologies that will contribute to raising agricultural products' quality and value.
 
The complex is aimed to attract investors in fields such as agricultural products, foods, and production of agricultural materials.
 
Addressing the ground-breaking ceremony, Deputy Prime Minister Hoang Trung Hai said the complex will serve as one of the venues through which farm produce from Dong Nai and its adjacent provinces can penetrate the world market, thus helping to promote the trademarks of hi-tech agricultural products.
 
The complex will have five areas for husbandry, cultivation, food processing, hi-tech agriculture and trading.
 
In the first phase, the complex is expected to be put into operation in 2013 at a cost of VND1.41 trillion.
 
The second phase is scheduled to start in 2014.

On this occasion, DOFICO gave VND3.55 billion to local schools in Xuan Loc and Thong Nhat districts.