A campaign launched three years ago to encourage Vietnamese consumers to purchase locally made products is showing signs of success, according to the Ministry of Industry and Trade.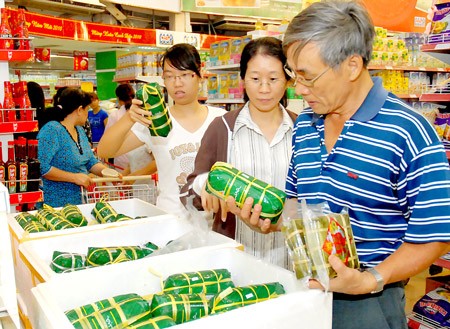 Illustrative image. (Photo: SGGP)
Up to 59 percent of consumers have prioritised Vietnamese goods, 38 percent advised their families and friends to choose home made products and 36 percent stopped buying or bought fewer imported goods, having replaced them with local goods, said Le Viet Nga, deputy director of the ministry's Department of the Domestic Market.
According to the ministry's statistics, the number of consumers who believe the quality of local products has improved has increased to 77 percent compared with just 23 percent before the campaign was launched.
Since the launch of the campaign three years ago, locally made products are accounting for 80-90 percent of goods on shelves in supermarkets such as Big C (90 percent), Saigon Co-op and Vinatex Mart (nearly 95 percent).
In order to further boost Vietnamese product sales, Nga emphasised the importance of continuing to improve awareness among local consumers about locally made goods, improving the competitiveness of domestic enterprises and developing effective distribution channels.
Vu Thi Kim Hanh, president of the Business Association of High-Quality Vietnamese Goods, noted that assistance should be provided to firms, especially small- and medium-sized enterprises (SMEs), to ensure their products appear on supermarket shelves.
SMEs faced many difficulties when negotiating with supermarkets to stock their products and often lost out to competition from multinational companies, she added.
Under a draft project created by the ministry to develop the domestic market in line with the awareness campaign for locally made products, a database of distribution systems will be set up along with store chains to ensure the availability of products with stable prices across all the 63 cities and provinces.
The draft project targetted seeing 90 percent of Vietnamese consumers using made-in-Vietnam products, while raising the turnover of these goods through major distribution channels nationwide to over 70 percent by 2015.