Though textile and clothing exporters have seen the beginnings of positive growth in the in the second half of the year, the leather and footwear industry has seen exports drop by double digit percentage points.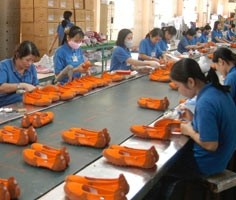 Because of impact from the global economic downturn, export turnover of Vietnam's leather and footwear industry only reachs US$2 billion in the first half of the year.
Exports of leather and footwear achieved just US$2 billion in the first half of the year, but its export target is $5.1 billion for whole year, said Vietnam Leather and Footwear Association.
The association said that due to the global financial crisis, cheaper leather and footwear exports from India and Tunisia are increasing, which have had a negative influence on Vietnam's own leather and footwear export markets, such as the EU.
However, Vietnamese export of leather and footwear to US has increased by nine percent compared to the same period last year, which is one of the few positive signals for the industry.
With the current difficulties, Vietnam's leather and footwear sector is forecast to achieve export turnover equal to the same as last year's, equivalent to $4.7 billion.