In the past years, Vietnamese products had been exported most to Cambodia among countries in the ASEAN but recently they have faced cutthroat competition from the same kinds of products in Cambodia.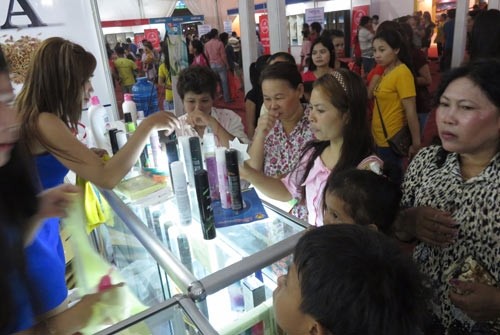 (Photo:SGGP)

According to the Mountainous and Border Trade Department under the Ministry of Industry and Trade, total trade turnover via border gates in 2015 was estimated at US$27.56 billion, up 27 percent compared to the previous year. Border trade between Vietnam and Cambodia accounted for 11 percent of total border trade turnover with about $3.05 billion. Of which, exports reached $1.84 billion, down 4.8 percent, while imports exceeded $1.2 billion, up 17.7 percent compared to that in 2014.

Meanwhile, Vietnamese businesses' feedback also says that exporting to Cambodia has become harder and harder, especially for border trade. According to Mr. Van Duc Muoi, CEO of Vissan, Vietnamese products have been facing several difficulties, including attempts to get rid of Vietnamese products. At present, Vissan has established its distribution network at many provinces and cities in Cambodia, but, since mid-2015 the company has failed to advance further. The amount of goods sold to Cambodia has stayed at low level in comparison with that in previous years. Mr. Muoi said that the company has already emptied its pocket for Cambodian market. Vissan's sausages and dried products which were sold well in previous years now have been gradually overwhelmed by Chinese ones which are offered at cheaper prices.

In fact, the competition between Vietnamese products with same kinds of products made by other countries in Cambodian market becomes fiercer and fiercer. Many Vietnamese businesses said that there is unhealthy competition among same kinds of products in Cambodian market as the country's tax controls remain weak.

According to new policy, Cambodia tightens import of goods. Meanwhile, Vietnamese businesses mainly export goods via official cross-border trade so they have to bear high tariffs. A foodstuff producer said that with a tariff of up to 35 percent Vietnamese products are hardly able to develop at this market.

Cambodia still maintains four import tariffs levels, comprising of zero percent, 7 percent, 15 percent, and 35 percent, on Vietnamese products along with a 10 percent of value-added tax. In addition, with undeveloped infrastructure and power prices three to four times higher than that of Vietnam, there have been more difficulties for Vietnamese businesses in Cambodian market.

Besides, there are fewer trade fairs held by Vietnam in Cambodia recently. Prior to 2014, Vietnam held around four to five large trade fairs in Cambodia. The Investment and Trade Promotion Center (ITPC) alone usually has two trade fairs in Phnom Penh and Battambang annually in order to give support to Vietnamese companies in search of export opportunities. In 2015, ITPC only ran one trade fair and there will be none this year. Even the Vietnamese high quality goods fair is no longer held here.

Earlier, Cambodia gave preferential treatment to Vietnamese trade fair organizers and helped them with business premises rental. But now, Vietnamese organizers have to pay for everything so high expenses, preventing them from conducting as many trade fairs as they did before. Several Vietnamese businesses said that they decided to change their business direction as exporting to Cambodia is now beyond their ability.

Mr. Le Anh Dung, deputy CEO of Saigon Cosmetics Company, said that the company's exports to Cambodia still rose 10 percent in the first quarter of this year but was lower than a growth of 20 percent in the same period last year. Vietnamese companies should constantly update Cambodia's policies so as to timely deal with the worst scenario. Cambodia as well as countries in the ASEAN Economic Community is adjusting policies to meet the commitments. Therefore, Vietnamese products will definitely receive tax preference. Vietnamese businesses should coordinate with their local partners to get a hold of the tax preference items. During this time, firms should enhance marketing activities to present high quality products with suitable designs, establish distribution network, and maintain market confidence to wait for opportunities.

Mr. Van Duc Muoi said that Cambodian people are tightening spending, thus, Vietnamese firms should be more active and persistent or they will be defeated.