The UK-based Association of Chartered Certified Accountants (ACCA) has held two graduation ceremonies in Hanoi and Ho Chi Minh City to grant certificates to 71 graduates in Vietnam.
The global body for professional accountants presented the certificates to 28 graduates in the capital Friday and to the 43 others in HCM City Saturday. The 71 ACCA affiliates passed the examinations in June and December 2008.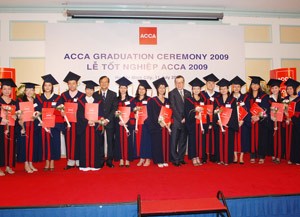 New ACCA affiliates get certificates in Hochiminh City on July 11 (Photo: Tuong Thuy)
Representatives of companies and organizations where the ACCA affiliates are working were among the guests.
Mr. Luke Keller, chief executive of British Petroleum (BP) Vietnam, represented the employers in congratulating the new ACCA affiliates at the HCM City graduation ceremony, in which BP Vietnam acted as the golden sponsor. Mazars, FTMS, Lotus University and KB Training also sponsored the event.
Luu Ngoc Bao, the first placing in the June 2008 examination, says, "I choose ACCA because its syllabus with variety and practical focused information provides a very good foundation on accounting and finance which helps me in my career."
He is working as an investment analyst for PXP Vietnam Asset Management.
Nguyen Anh Tuan, the first placing in the December 2008 examination, says, "Part-time study is tough as you do not have enough time and focus. Meanwhile ACCA study is quite demanding. It requires lots of time and its questions are often quite long and distract."
At present, Tuan is the chief accountant of Nui Phao Mining Joint Venture Company.
ACCA President Brendan Murtagh wrote in his message to the new affiliates, "Your designation of ACCA is the badge which informs the public of your achievement and professionalism. ACCA membership is also important because of the stake it gives you in the running of your professional body."
ACCA currently has almost nearly 400 official members in Vietnam. ACCA Vietnam estimates that by 2010, the demand for high quality human resources in insurance, securities, audit and asset assessment accounts for 13,500 people.
Also part of the graduation ceremonies, ACCA granted its certificates to 10 outstanding CAT graduates, with two of them grabbing the top scores of 100.

Certified Accounting Technician qualification (CAT) is a lower level certificate in order to build the foundation for ACCA. The body now has more than 3,500 Vietnamese students who are learning its ACCA and CAT courses.