The Dinh Vu polyester plant in the northern city of Hai Phong has made a major breakthrough, for the first time in the history of Vietnamese textiles, by successfully creating the first ever polyester fiber thread.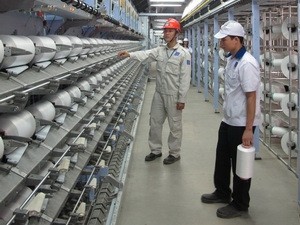 Workers at the Dinh Vu polyester plant
a product announcement meeting, Vu Dinh Duy, a director in the Textile Company, stated that these polyester fibers, filament fibers and polyester chips were produced in accordance with international standards using German technology. They were strong, durable and heat-resistant, easily meeting technical requirements for weaving, dying and sewing.
With capacity to produce 175,000 tons of fiber per year, the plant is able to supply around 40 percent of raw material needed for the Vietnamese textile industry, saving approximately US$400 million per year on imports of foreign made fiber, as well as providing jobs to nearly 700 people. Profits could reach VND6, 000 billion (approx. US$286 million), contributing VND600 billion (approx. US$28.6) per year to the country's revenue.
Dinh Vu polyester plant, built on an area of 15 hectares in the Dinh Vu Industrial Zone in the northern province of Hai Phong, is worth US$325 million and was built jointly by Hyundai Engineering Co, LG International Corp. and Petro Vietnam Construction Corporation.
Following the success in manufacturing this fiber, the company is now cooperating with Vietnam National Textile and Garment Group to build other plants in the northern provinces of Hai Phong, Nam Dinh, Ha Nam, Thanh Hoa and the central province of Nghe An.