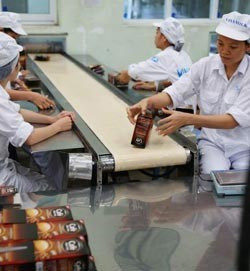 Vinamilk workers make instant coffee at the company's plant in Binh Duong Province
Vinamilk – the leading Vietnamese producer of milk, yoghurt, ice cream and cheese – has launched its instant coffee after inaugurating a factory in the southern province of Binh Duong.
The dairy company says it has invested almost US$20 million to build the six-hectare facility, designed to supply 1,500 tons of instant coffee products per year. It buys coffee bean from the Central Highlands, the country's coffee growing center.
Vinamilk sells three kinds: black, milk coffee and mixed coffee.
According to market analysts, ground coffee currently holds two-thirds of the Vietnamese market, and instant coffee the rest. This market, with a population of 86 million, now consumes about 70,000 tons of coffee a year. Starbucks coffee is not present here yet.
Vina Café, Trung Nguyen and Nescafé are some major instant coffee suppliers in the country.