Vietnam National Shipping Lines (Vinalines) has attracted foreign capital for the first time by signing to borrow US$130 million from Citibank NA to buy ships and develop the nation's deepwater ports.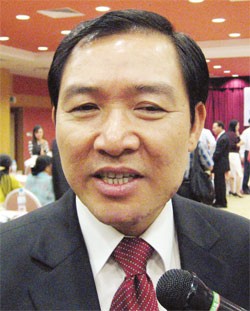 Vinalines chairman Duong Chi Dung
Vinalines chairman Duong Chi Dung spoke with Sai Gon Giai Phong newspaper's Investment and Finance supplement about the corporation's intentions.
 
Mr. Dung: Vinalines' plans have been approved by the Prime Minister and we have been chosen as the main developer of huge ports in Vietnam. This will need a lot of money so we will borrow US$200 million from Credit Suisse as well.
 
Reporter: How much does Vinalines need to buy ships and build seaports?
 
Between now and 2010 we will need US$3.5 billion - US$2 billion for more ships and US$1.5 billion for ports. The latter will be raised through selling bonds, government bonds for the time being. We've been allowed to borrow US$500 million from the sale of G-bonds outside Vietnam.
 
We are working with the Finance Ministry to issue bonds at the end of the year.
 
Besides Government bonds, does Vinalines intend to sell its own bonds?
 
We're looking for an international consultant to advise us on issuing corporate bonds, and foreign banks to underwrite the bond issuance, which should be early next year.
 
Are foreign investors keen on buying into Vinalines' member companies? If so, will their participation be limited?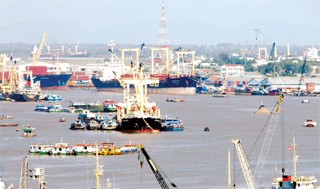 Sai Gon Port is one of the Viet Nam's biggest ports
There's been strong interest in Vinalines' equitization (part or full privatization of a corporation's members). Its 45 units have completed equitization and two have been auctioned. The IPO for the remaining one will be done late this year.
 
Our equitized members are performing well and their shares are keenly sought, and priced accordingly.
 
I should note that foreign participation is restricted in Vinalines members involved in training crews for foreign shipping companies.
 
As Vietnam implements its commitments to the World Trade Organization, some Vinalines members will sell their stakes to foreigners.
 
How about the equitization of the parent corporation itself?
 
All our members will have been equitized within the year. The major deepwater ports will be transformed into state-owned one-member limited liability companies. The parent corporation will be equitized after 2010.
 
What's the state's ownership in the equitized companies?
 
It's 51-60 percent in the biggest companies, 50 percent in the service providers, and 51 percent otherwise.
 
The state's share will be reduced gradually in 2010 and 2012 by selling shares to foreigners.