Vietnamese Military Telecom Group Viettel yesterday announced that it is planning to invest US$ 1, 5 billion for building its modern telecommunications services and providing coverage for 80-95 percent of the population in Myanmar during three years.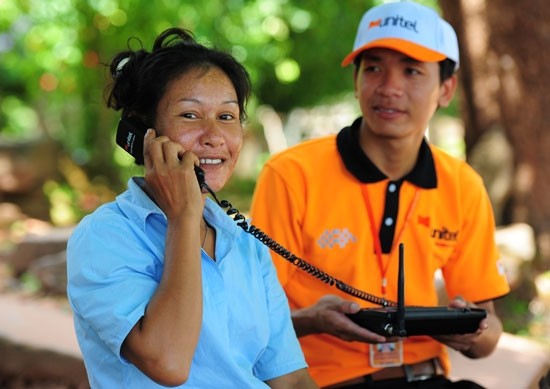 Viettel to build its modern telecommunications services in Myanmar(Photo:SGGP)
With its target of rapid demand for data, technology & information services in Myanmar, Viettel will establish its 3G telecommunications network using the 900 MHz and 2100 Mhz. Besides, the group will provide a 4G network using 1800 Mhz if Myanmar's Government approves for its investment license by this year' s end.
Myanmar's Government said it would grant four telecommunication licenses including two licenses for foreign private companies and two for domestic firms. Accordingly, the Vietnam's Military-run Telecommunication Group is the fourth partner which Myanmar will license as the group has selected to take part in the joint venture with two local companies including the National Holding Public Limited and Star High Public Company Limited. Becoming the partner of the local enterprises is a favorable condition for Viettel to be able to quickly penetrate and develop widely its telecommunication into Myanmar market.
With the standpoint of long-term of stable and effective investment, Viettel is expected to quickly implement procedures concerning to the negotiation and preparation for necessary technological financial and trade projects. Additionally, the group has had many experiences in providing the high data & digital services and qualities to local people. Viettel always receives supports from the governments, investors all over the world, said Deputy general director of Viettel group Le Dang Dung.
With the population of 60 million and GDP growth rate over eight percent yearly, Myanmar was considered as the world's leading potential telecommunications market three year ago when the number of people using cell-phone reached approximately 10 percent over the population. However, after past two years when domestic telecommunications market started opening with more competitive, the number of Myanmarese use cell phone was around 40 millions.