General Statistics Office August 23 announced that the Consumer Price Index increased slightly by 0.23 percent over the previous month and 8.18 per cent over the same period last year.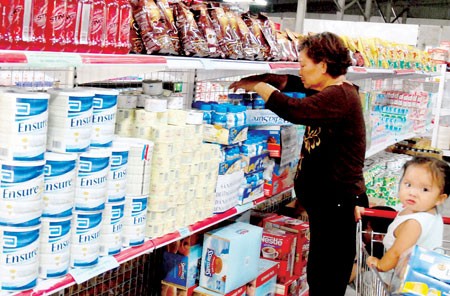 Vietnam' August CPI edges up 0.23 percent. (file photo)
The CPI was up 8.61 per cent in comparison with the first eight months of last year, said the GSO.
In the first eight months of the year, other commodities also saw an increase by over 10 percent, including gold (37.78 percent), transport (16 per cent), housing and construction materials (roughly 15%), other commodities and services (11.79 per cent) and goods (around 11 per cent).
GSO expert Do Thi Ngoc said the month's CPI increase had not been affected by a rise in fuel price or the depreciation of the Vietnamese dong compared to the US dollar. However, she predicted the coming month's CPI would be impacted by these factors.
The capital's CPI increased by 0.15 per cent while HCM City's decreased by 0.25 per cent. Thai Nguyen, Hai Phong and Thua Thien-Hue rose by 0.06 per cent, 0.12 per cent and 0.17 per cent respectively.
The GSO projected that in September, CPI would continue to be on the rise.