According to the Ministry of Agriculture and Rural Development, exports of agro-aqua and forestry products in Vietnam reached US$1.8 billion in January 2012, a decline of 16.3 per cent against the same period last year.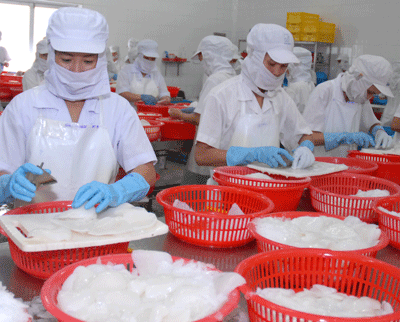 Workers processing octopus for export to EU and Japan (Photo: SGGP)
Vietnam's agro exports faced many difficulties in the first months of the year. Exports of cashew nuts fell by 50 per cent, vegetables and pineapple by 30 per cent and cucumber by 15 per cent.
The Vietnam Association of Seafood Exporters and Producers said that consumption of products is slow and payments are stuck in the European market due to the eurozone debt crisis.
According to the Vietnam Forest Corporation, the year 2012 will be a difficult year, with many challenges for enterprises in the sector.
Although the sector has many existing orders, enterprises have only signed small contracts for fear of coping with expenses on overheads; as a result, exports to main markets such as Japan, the US and EU slumped by 8 per cent, 9 per cent and 14 per cent respectively, lower than in the same period last year.
Rice exports in January 2012 have also fallen by 42 per cent compared to the same period last year.
The Department of National Agro-Forestry-Fisheries Quality Assurance said many delegations from countries including the US, EU, Russia, South Korea, Japan and China will arrive in Vietnam to inspect safe production, chemical residue and pesticide content as well as the origin of all products. 
Recently, the EU had complained that several consignments contained micro-organisms and dangerous pathogens.
The Ministry of Agriculture and Rural Development on February 14 sent an urgent dispatch to provincial people's committees and the Vietnam Fruit and Vegetables Association, ordering a more thorough inspection of vegetables and fruits being exported to the EU market.
The European Commission's Directorate General for Health & Consumers has warned that a ban on Vietnamese fruits and vegetables would take effect if the five food safety and plant quarantine regulations were detected.
Vietnamese Beekeepers Association said the sector is facing difficulties after the US food watchdog ordered return of 600 tonnes of honey, as it contained Carbenzamin residues.
Soon after Vietnam becomes the second Asian country to export honey to the global market, beekeepers have mushroomed but are still not paying heed to quality.
Dishonest traders have tried to mix Chinese honey with Vietnamese, affecting the quality. The sector must therefore deal with such problems or else it will loose its main market.