Vietnam has one of the lowest average incomes in the world but its citizens have to pay the most for milk, Professor Nguyen Lan Dung, chairman of the Vietnam Biology Association, said May 28.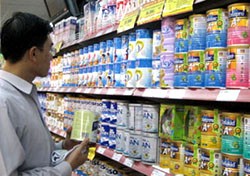 Vietnamese have to pay the highest milk price in the world (Photo: Tuoi Tre)
Speaking at a seminar on milk and Vietnamese consumers, held by the Institute for Technology Development, and Media and Community Assistance in Hanoi, Prof. Dung said that while consumers have to pay a lot for milk, processors enjoy a profit of 28 percent and distributors 13 percent.
According to PhD. Do Kim Tuyen from the Livestock Breeding Department, the price of imported milk has fallen by 50 percent since mid-2008. However, the price of milk products in the market still remains high or has even increased.
One of the reasons for high milk prices is that companies spend a lot on advertising and marketing, PhD. Tuyen added.
Dairy cows in Vietnam provide just 28 percent of demand, with the remaining having to be imported.