Vietnamese-made industrial products have begun to increasingly attract local buyers, with many even outselling imports.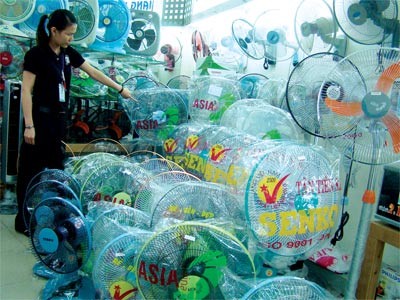 Saigon Electric Center in HCMC, where most fans on display are made domestically. Vietnamese electric and electronics manufacturers have asserted themselves in recent times and are confident of taking on all comers (Photo: SGGP)
To get a foothold in the domestic market, manufacturers have relentlessly sought to increase investment in innovation.
 
In the past imported goods occupied most of the shelf space at electrical and home appliances shops, but in recent years they have been gradually replaced by domestic products.
 
Most fans now sold in the market are made in Vietnam and are popular thanks to their good quality and cheap prices. They cost about VND200,000-500, while foreign brands like Tifa and Lifai cost VND1 million.
 
Ideas Electric Center in Ho Chi Minh City's District 5 and Saigon Electric Center in District 3 have a rather large display of fans, mostly of local brands like Asia and Senko.
 
Vuong Thi Hong Yen, head of sales at Saigon Electric Center, said her shop imports a few foreign brands but they are not popular since customers prefer local fans because of their lower prices and range of designs. 
 
One advantage local products have is that spare parts are easy to find if they break down.
 
Vietnamese-made gas stoves, refrigerators, TVs, and IT products are also popular.
 
Ngo Van Vi, director of Tan Binh Electronic Joint Stock Company (VTB), said: "In past years, due to competition from foreign giants, VTB targeted only the provinces. But recently, after the company invested in equipment and facilities, especially to improve quality and diversify design, its products have found a foothold at supermarkets and shops in big cities too."
 
Products like refrigerators and TVs saw a 20-35 percent increase in sales in the last two years, he added.
 
Steel is another product that has managed to shrug off the competitive pressure from imports though imports from Southeast Asia no longer attract duties.
 
Local producers not afraid of competition
 
Do Duy Thai, general director of Pomina Steel Company, said the program to encourage people to consume Vietnamese goods is very important to the country's economy.
 
It should be implemented over a long term to make people aware of the need to use Vietnamese goods, he said.
 
The Government should allow foreigners to make 100 percent investment only in fields where domestic entrepreneurs cannot and restrict it to 30 percent in other areas, he said.
 
China applies this policy to its steel industry, he pointed out.
 
Tran Thach Quang, head of the Vietnam Fan Company's Communications Department, said Vietnamese producers are not afraid to compete with foreign ones in terms of price once they utilize their advantages as local players.