This year is the 10th anniversary of the program to promote Vietnamese high quality goods. High quality goods fairs are one of the most effective promotion activities, a true bridge between consumers and producers. In recent years, they have attracted more and more consumers, brought benefits to three sides: consumers, pruducers and fair organizers.
The Vietnamese High Quality Goods (VNHQG) Fairs have been held in Gia Lai, An Giang and Ha Noi since early this year. The coming fair will take place in Ho Chi Minh City on the occasion of the 31st anniversary of the country's Reunification Day and the May Day. This fair promises more fascinating activities as it hosts a record number of kiosks of high quality products from 270 Vietnamese enterprises.

New exciting events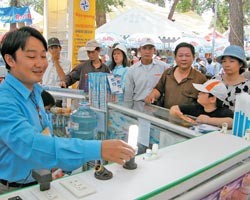 Customers buy electricity saving compact lights at the Vietnamese High Quality Goods Fair 2005 in Ho Chi Minh City.
When the high quality goods fair was held in highland city of Pleiku in early January, it was the first time people witnessed fair producars promoting the fair to their village and enjoyed traditional musical performance, southern amateur music in the central highland region. Students could enjoy puppet performance free at the Children's Garden. Highland people crowded the fair like to go on a pilgrimage
At the opening ceremony of the Vietnamese High Quality Goods Fair 2006 in An Giang, the Fund for Educational Development founded by the VNHQG Business Club and the Sai Gon Marketing Newspaper made debut. The scholarships valued VND300 million were given to 216 poor pupils and students from 13 Mekong Delta provinces. This event moved to tears lots of the fair attendants.
The VNHQG Fair in Ha Noi (March 25-27) with the participation of 800 kiosks from 220 companies marked the 10th anniversary with creative activities. "Vietnamese enterprises have changed in both quantity and quality," said Deputy PM Vu Khoan at the meeting with enterprises held at the fair. The Deputy PM was satisfied that Viet Nam has had goods, products and services of high quality like others in the world.
The fair also had a playground for the youth with game café and karaoke contest.
The five-day fair attracted 300,000 visitors and had a revenue of VND25 billion. And 583 new outlets were opened in the northern market after the fair.
The fairs have seen promotion activities organized professionally and effectivelly. Especially, the program "Guiding consumers", which is a playing ground for enterprises to approach consumers, was prepared well. This activity aimed to help consumers recognize trademarks and make strong impression on consumers.
More interesting activities at 10th fair
The fair becomes a shopping place for many people in Ho Chi Minh City because it is annually held in the occasion of the Reunification Day and May Day. A customer said her family and friends are awaiting this annual occasion to go shopping. She usually went to this fair three or four times every year and spent lots of money on shopping. "Because shopping at the fair has three advantages: latest goods, high quality and cheap price," she said.
Cao Thi Ngoc Dung, Director of the Phu Nhuan Jewelry Joint Stock Company (PNJ), which has joined almost all fairs, said the fair has brought about lots of achievements for businesses and the country's economic development. With a new prospect in the 10th year, enterprises with products recognized as Vietnamese High Quality Goods want to improve Vietnamese people's lives.
The 10th fair will be held at Phu Tho Stadium, District 11, Ho Chi Minh City on April 25-30, 2006. To date, 270 enterprises have registered for over 1,000 booths, a record number. There will be more exciting activities at this fair than before.
Number of enterprises winning the votes for "Vietnamese High Quality Goods":

1997: 120 enterprises, 1998: 187, 1999: 270, 2000: 260, 2001: 372, 2002: 422, 2003: 447, 2004: 498, 2005: 549, 2006: 653.