The trend for overseas investment by domestic businesses is on the rise and if the economy recovers soon, there may be a "boom" of overseas investment from Vietnam in the next five to ten years, the head of the Overseas Investment Department, Phan Huu Thang, said recently.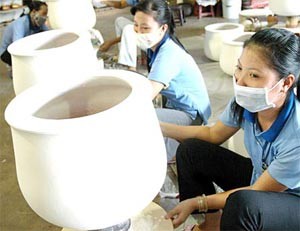 Workers at Natural Choice Co., an exporter of pottery and porcelain in Cu Chi District, HCMC. The Overseas Investment Department reports a rise in investments abroad by domestic companies and forecast a boom in the next five to ten years. (Photo: SGGP)
By the end of May, Vietnamese companies had setup nearly 370 investment projects worth over US$5.1 billion in 48 countries and territories, the department said.
Of these, 155 projects valued at $4.2 billion were in industries and construction, and the rest in agro-forestry and services.
Topping the list of countries invested by Vietnamese businesses was Laos, followed by Malaysia, Algeria, Cambodia, and Madagascar.
Vietnam's investments also reached South Korea, Japan, the US and Taiwan, which are currently top investors in Vietnam.
Mr Thang said the trend for overseas investment by businesses has increasingly developed since 2008.
It is expected that in the next few years, the money Vietnamese companies invest abroad will increase by $500 million per year.
Investments are no longer limited to services but have expanded to include other fields, such as oil and gas exploration and electricity production.
"Today's Vietnamese businesses have become more dynamic in identifying niche markets in large countries and territories. They are also keen on seeking newly emerging markets and are cleverer in mobilizing capital," he said. 
Regarding concerns that while the Government is trying to prevent an economic recession, increasing overseas investment may weaken the domestic revenue, Mr. Thang said that in many cases, such investment is a means to lay the premise for boosting exports and domestic production.
An example is an investment project to build a trade center in the U.S., which created favorable conditions for many businesses to learn more about this market and then export goods, he explained.
Overseas investment is also an instrument for investment diversification and risk dispersion, he added.
More assistance needed
Current regulations governing overseas investment have created favorable conditions for Vietnamese businesses to invest abroad, an official of the Vietnam Oil and Gas Group – the country's largest overseas investor, said. 
The Prime Minister also recently assigned the Ministry of Planning and Investment to suggest amendments to Decree 78, which governs this field, so that administrative formalities are simpler and the management of overseas investment flow more efficiently.
  
However, there remain some weaknesses to overcome, experts have said.
In general, Vietnamese businesses' financial ability remains rather weak and Vietnam's overseas representative agencies have yet to help them much in terms of market forecast and orientation, the Ministry of Planning and Investment commented.
The coordination between the ministry and such agencies should be improved to provide more market information to companies and remove obstacles, Mr Thang said.
Some regulations on foreign exchange should be re-considered and renovated to make both the inflow and outflow of money more streamlined, he added.
As for overseas investment projects that help boost the country's economic growth, such as production of electricity or minerals abroad and then export them to Vietnam, they should be given incentives, including tax allowances, he suggested.