Vietnam plans to increase its rice exports this year in a move to assist farmers.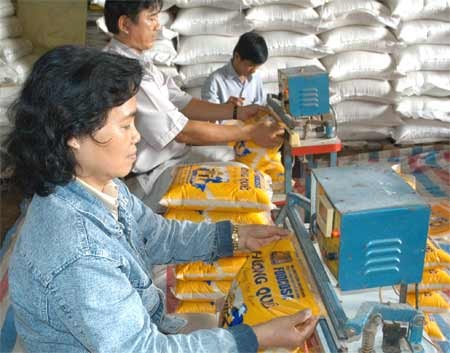 Workers package rice for export at Foocosa Company (Photo: SGGP)
Truong Thanh Phong, chairman of the Vietnam Food Association (VFA), told yesterday meeting that besides exporting to Indonesia and Bangladesh, VFA would try to secure orders from Cuba, Iraq, Malaysia and the Philippines.
 
Mr. Phong stated that Vietnamese rice has an advantage over Thai and Pakistani rice as it is cheaper.
 
Philippine is expected to import 1.5 million tons of rice this year and Indonesia too will be importing a large volume by mid-year. Vietnam must therefore gear itself to avail of this export market at the appropriate time.
 
VFA is hence preparing to assign its members of 65 companies to purchase one million tons of rice at the market price, but no less than VND5, 000 per kilogram, for storage from early March to mid April.
 
These enterprises will be given preferential loans at low interest rates to buy rice stocks.
 
Le Minh Truong, director of Song Hau Food Company, said that VFA must clearly instruct and monitor companies to buy rice from farmers at reasonable rates otherwise they will buy and export at very low rates causing a stiff competition amongst local exporters.
 
According to VFA, Vietnam exported over 485,000 tons of rice by January 31, 350,000-400,000 tons more than their set target. The average export rate was US$503.46 per ton (FOB price), showing a US$39.54 hike per ton.
 
The country plans to export a further 700,000 tons in February and 500,000-600,000 tons in March. In total, the rice exports will touch around 1.8 million tons in the first quarter.
 
Local rice firms have registered to export 1.515 million tons of rice to Indonesia and Bangladesh, of which 4.484 million tons has already been sent and the remaining 1.031 million tons will be delivered this month.