Vietnam's garment and textile sector has seen positive signs in the fourth quarter of the year with many big names having acquired sufficient orders for the period and even for the first quarter of 2013.
Le Trung Hai, Deputy Director General of the Vietnam Textiles Group (Vinatex), said the sector will spare no effort in achieving an export target of US$17-17.5 billion in 2012 and $20 billion in 2013.
By the end of September, Vinatex topped the sector with an export value of $12.6 billion, a 7.4 percent year-on-year increase.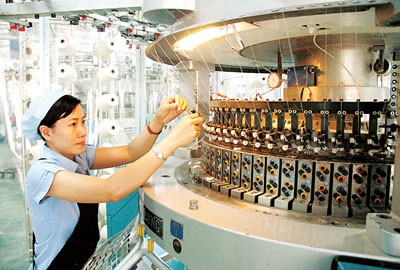 Textile workers in Thanh Cong Company (Photo: Kim Ngan- SGGP)
According to Hai, the garment sector had a really difficult time in the second quarter, but the situation improved in the third and fourth quarters thanks to higher growth in the market.
In particular, Vietnam's hosting of the 2012 annual global conference of the Textile Manufacturers Association from November 4-6 will be a good chance for local businesses to update themselves on market information and expand ties with leading manufacturers in the world, he added.
According to economic experts, the trade agreement partners across Asia and the Pacific will change the global textile trade. America is considered the largest textile consumer in the world with orders of approximately $100 billion a year, of approximately $500 billion a year of global textile consumption. That will open up huge opportunities for Vietnam's garment sector as Vietnam is one of the nine current members of the TPP.
The fact that textile export growth rate reached 25-30 percent in recent years has created a new step for Vietnam's garment and textile sector.
Besides, surplus value also increased, accounting for 40 percent of the total export value of textile and apparel industry which has become one of the country's key export sectors. Garment export value in the first nine months of 2012 reached $12.6 billion, up 7.4 percent from the same period in 2011.
In particular, exports to the U.S. market reached $5.6 billion, up 8 percent; to the EU it was $1.81 billion; to Japan $1.45 billion, up 18.7 percent; to South Korea $748 million, an increase of 18.5 percent compared to the same period in 2011.
Despite the world economic downturn, orders from Japan, South Korea are still high thanks to incentives from the bilateral and multilateral trade agreements between Vietnam, ASEAN, Japan and South Korea.
Currently, South Korea has become the 4th important export market for Vietnamese garments.