Vietnamese apparel makers are coping with a slump in export orders in the last two quarters of the year since major foreign buyers are struggling with an economic slowdown.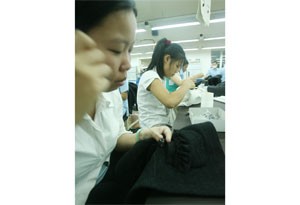 Vietnam's textile manufacturers are expected to cope with tough challenges in the last two quarters of the year (Photo: Minh Tri)
Textile consumption of Vietnam's key markets including the US and Europe looks set to drop around 30 percent in the last two quarters of the year due to the current economic turmoil, says general director Nguyen An of Garmex Saigon.
A slump in orders will lead to an intense competition between local textile makers, in which competitors cut prices to gain business, An says.
Analysts say traders in large markets worldwide favored Vietnam's textile manufacturers and other countries' over China's in the last two years due to high input cost.
However, the world's largest populous country is now focusing on textile sector as its inflation is soaring, reducing prices to attract customers.
China's consumer price index for June rose 6.4 percent from a year earlier, slightly above economists' forecasts for a 6.3 percent increase, with sharp rises recorded in food, consumer goods and property, according to Reuters.
Local textile producers should start keeping a close eye on the international markets' move although export order situation now remains positive now, vice chairman Pham Xuan Hong of the Vietnam Textile and Apparel Association suggests.
Retail price of exported textile this year moves up 10-15 percent year-on-year, but input costs are tripled, according to Phung Dinh Ngo, director of apparel company Binh Hoa.
Large producers with a large number of employees say their profit margin is getting lower due an increasing minimum wage.
A recent government decision raised the minimum wage by 14 percent as of May 1, from VND730,000 (US$35) to VND830,000 ($40) a month.
Statistics show textile manufacturers are Vietnam's biggest export revenue earner in the first six months of 2011, with a turnover of US$6.2 billion.
The export turnover is expected to reach $13.5 billion this year.