The Vietnam Summit 2016 under the theme "Smooth Sailing Ahead" opened in Ho Chi Minh City on November 3.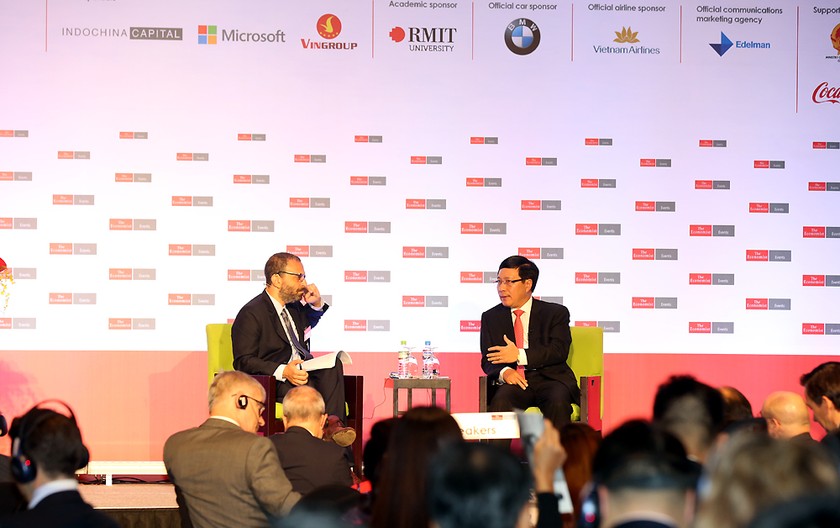 DEputy PM and Foreign Minister Pham Binh Minh (R) at the Vietnam Summit 2016
The annual conference co-organized by the Foreign Ministry and the UK's The Economist magazine, aiming at giving a deep knowledge of Vietnamese business and investment environment to international enterprises, especially long-term investors.

The Vietnam Summit 2016 includes six main discussions: Vietnam in the global economy, the future of manufacturing industry, Feeding Vietnam, business breakthroughs building Vietnam Inc and The World If… Geopolitics.
The event is a chance for the Vietnamese Government, enterprises, experts and scholars to learn about the country's most pressing issues, discuss opportunities and challenges which Vietnam is facing, and seek answers for the country's development, Jons Fasman, Southeast Asian bureau chief for The Economist, said
Deputy Prime Minister and Foreign Minister Pham Binh Minh stressed that the Vietnamese Government committed to create the best working condition and a favorable environment to ensure an equal and fair playground for enterprises. It has also asked the localities to attract foreign investment, especially in the industries using high technology and local human resource effectively, contributing to the sustainable development and environmental protection.

Vietnam's economy shows satisfactory signal, said experts at the summit. Moreover, it is expected to benefit from a number of impending trade deals, including the Trans-Pacific Partnership (TPP). This 12-country pact involves the United States and Japan, which are already two of Vietnam's most important trading partners.