Consumer Price Index (CPI) in November edged up 0.34 percent compared to the previous month and 5.78 percent year-on-year with nine out of 11 commodity groups posting increase in price, according to the latest data by the General Statistics Office.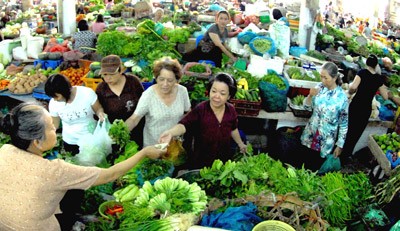 Illustrative image. (Photo: SGGP)
Restaurants and catering services saw strongest hike of 0.62 percent compared to October and 4.86 percent year-on-year due to recent floods in Central Vietnam.
Noticeably, rations soared 1.29 percent over the previous month, while foods surged 0.56 percent and eating-out inched up 0.17 percent.
Other commodity groups, including houses and building materials, garments, hats and footwear, also posted increase, whereas transport slid 0.34 percent as gasoline price lowered by VND250 per liter this month.
CPI mounted 0.29 percent in urban areas, and 0.37 percent in rural areas.
Among ten provinces which have released CPI data in November, Can Tho City led the list with 0.57 percent increase, while Da Nang City posted lowest increase of 0.16 percent; Hanoi City grew 0.26 percent; and Ho Chi Minh City raised 0.17 percent.
This year, CPI advanced 5.5 percent, far below target of 7 percent which was approved by the National Assembly. As market price remained steady, CPI is estimated to rise by 6.2-6.3 percent in 2013, the lowest level in the past ten years.
The US dollar price index and gold price index fell 0.1 percent and 1.04 percent, respectively, compared to the previous month.