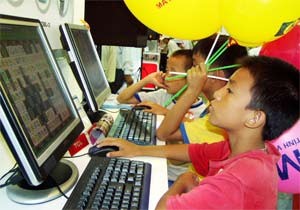 Vietnamese kids try to use computers (Photo: Tuong Thuy)
The Vietnam Post & Telecommunications Corp., or VNPT, reported a 14.9% increase in 2006 revenue to VND38.33 trillion (about US$2.4 billion), a company statement said on Thursday.
VNPT is the nation's largest telecommunications corporation and controls more than 90% of the market, the statement said.
During the year, VNPT paid VND6.39 trillion to state coffers, 11.3% more than what it paid a year earlier.
VNPT added 4.5 million new telephone users in 2006, raising its total customer base to nearly 18 million, including 8 million fixed-line users and 10 million mobile users.