In the two years of 2018-2019, Vietnam has participated in two new-generation free trade agreements (FTAs) with the largest scale ever, including Comprehensive and Progressive Agreement for Trans-Pacific Partnership (CPTPP) and European Union- Vietnam Free Trade Agreement (EVFTA).
The signing of these agreements is expected to open great opportunities for Vietnam's export market of agro-forestry and aquatic products with the export value of US$ 43 billion.
Through these agreements, Vietnam's agricultural products would have opportunity to approach 37 large markets with a population of over 1 billion people.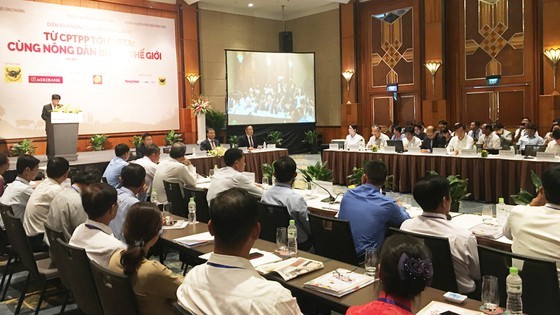 250 business and farmers attend in "Together with Vietnamnese farmers to go to the global market" forum.

Speaking at the forum, Vice Chairman of Vietnamese Farmers Association Mr. Nguyen Xuan Dinh emphasized that there have been 11 million farming households in the country. In recent years, the Party and State have given many support policies for production as well as consumption of agricultural products of farmers.
However, Vietnamese agricultural products have low value-added export as well as face many barriers, especially food hygiene and safety. Therefore, the event is considered as an opportunity for leaders of ministries, departments, agencies, farmer associations, businesses and farmers to discuss, seek solutions and propose policies for the farmers to Party and State.
According to Deputy Minister of Industry and Trade Mr. Do Thang Hai, large markets such as Canada, Australia and Japan applied import tariff rate of zero percent on Vietnam's agricultural products that would positively impact to export turnover promotion.
Regarding EVFTA, this is a comprehensive and high-quality agreements with balanced benefits for Vietnam and the European Union, contributing in boosting the bilateral relationship towards a strategy, comprehension and sustainability.
Up to now, this is the highest commitment of any FTA partner to give Vietnam, especially, the EU is continuously one of the two largest export markets of the Southeast Asian country with an export turnover of US$ 42 billion and a total bilateral trade turnover of nearly US$ 6 billion in 2018.
At the forum, the delegates focused on learning and discussing about the opportunities and challenges of Vietnam in context of the export of agricultural products have positively, negatively impacted to production and processing activities, business of 11 million farming households.
According to Director of Institute of Policy and Strategy for Agriculture and Rural Development Tran Cong Thang, the tariff reduction is considered as an opportunity for export of the Vietnamese agricultural products at CPTPP's member countries.
Regarding CPTPP, rice, coffee and seafood are the potential products of Vietnamese agricultural industry; meanwhile, seafood and fruits are the potential products of Vietnam in the EU market.
However, both Vietnamese farmers and agricultural products would brace for extreme competition in the domestic market as the tariff reduction for livestock products, fruits, etc reduces strongly.
Vietnamese enterprises need to strictly ensure the stringent export standards, requirements of member countries of CPTPP and EVFTA, as well as to increase product competitiveness.