An economic zone in the central region's Ha Tinh Province has received nearly US$12 billion of investments from 103 businesses including foreigners since its establishment in 2006, a zone manager said Sunday.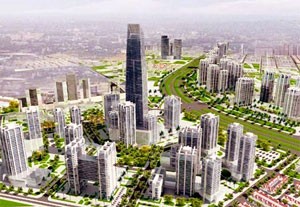 A part of Vung Ang economic zone in Ha Tinh
Several national major projects at the zone, which spreads nearly 23,000 hectares in Ky Anh District, has been finished and put into operation, including Vung Ang Petrol and Gas General Store, the North Central Liquidized Gas General Store, Vung Ang Port and several factories producing forestry products for export.
Ho Anh Tuan, chief manager at Vung Ang economic zone, said that the Vung Ang deep port can receive ships between five and 3.5 million tons.
Work at many other projects are being speed up, such as Vung Ang 1 thermo power plant worth US$1.56 billion, Son Duong Formosa Iron and Port Complex worth $7.9 billion, a project on five-star hotels and office buildings worth $78.6 million, Tau Voi tourism center worth $70 million and an industry-service complex worth $50 million.
Meanwhile, some projects are still pending investment permission. They include an oil refinery worth $12.47 billion with expected output of 16 million tons a year, a steel factory and the second phase of the thermo power plant.