The Vietnam Cashew Association (Vinacas) has asked commercial banks for a short-term loan of around VND13 billion (over US$ 623,000) to purchase all the raw cashew stock from farmers.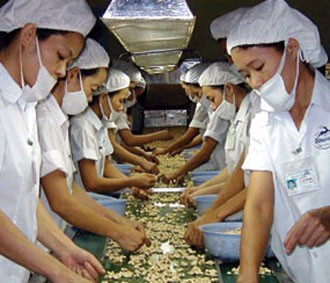 Workers processing cashew nuts for exporting
At a meeting on February 29, to review the cashew sector in 2011 and implement a plan to purchase, process, import and export cashew products in 2012, Vinacas said that farmers had a large stockpile of raw cashews that were still unsold.
Moreover, price of cashew in the world has slumped suddenly; consequently, raw cashew in the country has dropped to VND20,000 per kilogram, compared to VND35,000 per kilogram last year. 
Vinacas has hence asked commercial banks to extend its old loans, as well as give a short-term loan to purchase 380,000 tonnes of cashew from farmers, to assist them in this difficult period.
At the meeting, the association also said that 296 exporters were registered to export cashew nuts to foreign countries; however, there exists an unhealthy competition between enterprises, which has tarnished the prestige of the Vietnamese cashew industry as well as lowered quality of the product.
After Tet Lunar New Year this year, China stopped buying cashew nut kernel while European countries did not show any positive sign either.
This resulted in only 14,400 tonnes to be exported in the first months of 2012, bringing a turnover of US$107 million, much lower than during the same period last year.