The Trans-Pacific Partnership Trade Agreement (TPP) and the EU-Vietnam Free Trade Agreement (EVFTA) will give Vietnam more opportunity in attracting foreign investment, expanding markets and exports, reported the UN Economic and Social Commission for Asia and the Pacific (ESCAP) yesterday.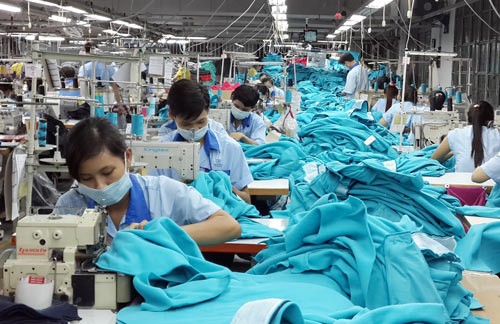 Textile and garment benefit most from TPP (Photo:SGGP)
In the report released yesterday in Hanoi ESCAP forecast that Vietnam's economic growth is expected to edge up further to 6.8-6.9 per cent in 2016 and 2017.

However, experts also warned that Vietnamese enterprises will face more stringent environmental and labor requirements may raise production costs in the short run.

Productivity improvement is an urgent matter for the Southeast country at present, said a representative from the Central Institute for Economic Management.

The sustainability of the economic growth greatly depends on the foundations of productivity, the representative said.

So Vietnam should continue the economic reform for raising productivity, focusing on the long term reform, easing regulations on business boundaries and invesment, renew ways to conduct reform; and encourage businesses and laborers to share benefits from the economic growth process, the representative added.