The Bank for Investment and Development of Vietnam on July 26 officially started it operations in neighboring Cambodia. Vietnam Airlines also announced its cooperation in establishing Cambodia's new national airline.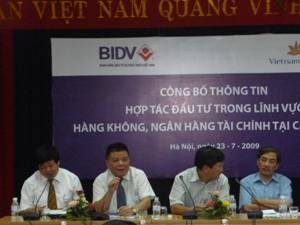 BIDV chairman Tran Bac Ha (2nd L) and Vietnam Airlines CEO Pham Ngoc Minh (2nd R) at a press conference in Hanoi July 23 to announce their Cambodia investment plans
BIDV chairman Tran Bac Ha said his bank had established Investment and Development Company (IDCC) to represent BIDV's operations in Cambodia.
The new company, capitalized up to US$100 million, had earlier bought  PIB, a Cambodian bank, totally and renamed it Bank for Investment and Development of Cambodia (BIDC), which is now a 100% Vietnamese firm.
BIDC is in talks with its Cambodian partners to set up the Cambodia- Vietnam Insurance company, in which Vietnam expects to hold a 90% stake.
Currently Cambodia reportedly has just 24 commercial banks, and this is considered an opportunity for Vietnam to invest in the neighbor's banking sector.
Around 400 Vietnamese businesses are currently investing in Cambodia and are potential customers of BIDC, said Mr Ha.
Mr. Ha said BIDC's total assets are expected to increase by $303 million, customers' capital by $216 million and loans of $210 million in the next three year.
For the planned Cambodia- Vietnam Insurance company,  the target is to hold at least 20 percent of the Cambodian insurance market in the next five years, he added.
On the same day, Vietnam Airlines announced its co-operation in setting up the Cambodia Angkor Airlines.
An official agreement was signed between Vietnam Airlines and the Cambodia's government on July 26 in Phnom Penh.
Vietnam Airlines' CEO Pham Ngoc Minh said Cambodia Angkor Airlines has an initial capital of US$100 million. Cambodia holds a 51% stake while Vietnam 49%. The new national airline is to be launched on July 27.
Mr. Minh said with the establishment of the new carrier, Vietnam Airlines has more business chances in Cambodia.
The carrier operates direct flights between Phnom Penh, Siem Reap in Cambodia and a number of Southeast Asian and Northeast Asian destinations.