Nguyen Hoai Giang, General Director of Binh Son Petrochemical Company announced on June 30 that Vietnam Airlines had decided to switch to Jet A1 fuel from the Dung Quat Oil Refinery for its domestic and international flights.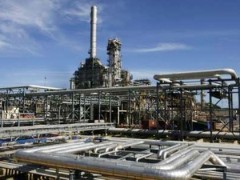 Dung Quat Oil Refinery.(File photo)
This year the Dung Quat Oil Refinery is expected to produce about 400,000 tons of Jet A1 fuel to meet 35-40 percent of Vietnam Airlines' demand.

Vietnam Airlines needs fuel its 300 daily flights and remains Binh Son Company's biggest client. 

The Binh Son Co, which manages the Dung Quat refinery, received international clearance certificates from Norway DNV Register in March this year. Since last August, it has sold 20,000 tons of fuel to domestic and international airlines.