Flag carrier Vietnam Airlines took the first delivery of 3,000 cubic meters of jet gasoline from the country's oil refinery on Sunday under a contract the two sides reached in June.
The PV Oil Alpha ship of Vinapco, the airline's fuel supply company, took the delivery of Jet A1 fuel at Dung Quat Oil Refinery in the central province of Quang Ngai.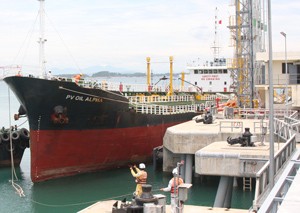 The PV Oil Alpha ship takes the delivery of jet fuel at Dung Quat Oil Refinery on July 17, 2011 (Photo: Tuan Minh)
Vietnam Airlines announced June 29 that Dung Quat was its domestic fuel supplier. This move is said to be a way to reduce the carrier's reliance of fuel import and decrease the country's import spending.
Dung Quat, Vietnam's only oil refinery, is capable of supplying 400,000 tons of Jet A1, equal to 35% - 40% of the flag carrier's current annual demand.
The airline's fuel supply company Vinapco is set to buy 250,000-300,000 cubic meters of Jet A-1 fuel from Dung Quat a year, according to Vinapco chief executive Tran Huu Phuc.
Vietnam's Southern Service Flight Company was the first Vietnamese enterprise to use Dung Quat's Jet A1 fuel. The military's Oil and Gas Department followed, buying the refinery's jet gasoline for military flights, according to the Binh Son Refining and Petrochemical Company, which operates Dung Quat.