HA NOI (VNS)— Viet Nam will focus on attracting eco-friendly foreign direct investment (FDI) projects that are high-tech and consume low natural resources and energy, officials from the Ministry of Planning and Investment (MPI) have said.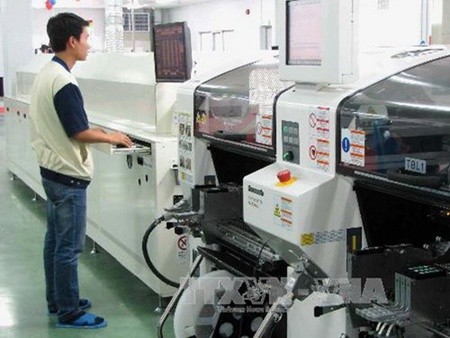 Viet Nam will focus on attracting eco-friendly foreign direct investment (FDI) projects that are high-tech and consume low natural resources and energy.— Photo baodongnai
Speaking about how to attract more FDI in the future, MPI Deputy Minister Nguyen Van Trung said the country must choose projects that were more suitable to its new development period.
At the same time, the country would also appeal for projects that are invested by small and medium-sized enterprises.
In 2013, FDI was a bright spot in Viet Nam's economic picture, attracting more than US$20 billion. Recently, amid the global difficult economic situation, domestic firms encountered challenges they had not faced since the country started its renewal, the Deputy Minister noted.
However, the country had good results in attracting FDI, which made up 18 per cent of national GDP. The FDI sector contributed 64-67 per cent of export revenue and 12-14 per cent of national budget revenue while creating over 2 million jobs.
In another interview, the Minister of Planning and Investment, Bui Quang Vinh, said enhancing competitiveness in investment environment was very essential.
"What we need to do is solving existing obstructions in attracting FDI. Those are weaknesses in infrastructure, unskilled labour force and slow development in support industry, shortcomings in institutions, policies and administrative procedures," Vinh said.
He noted that Viet Nam now had to compete with Thailand, Indonesia and Malaysia and other developing countries such as Myanmar, Laos and Cambodia,which were also experiencing improvement in the investment environment.
Still, the country was still an attractive place for FDI, according to Vinh, since it had a stable political and social environment. Viet Nam had road networks and rail systems linked with countries in the Greater Mekong Sub-region which lies on international aerospace and marine routes.
He added there was a large consumption market of 90 million people with increasing income and a linkage to the hundreds of millions in ASEAN, China, Japan and the Republic of Korea.
Viet Nam is presently negotiating a Trans-Pacific Partnership (TPP) Agreement and Free Trade Agreement (FTA) with the Republic of Korea and the EU.
Since 1999, especially since the Law on Enterprises was introduced, domestic businesses have made new progress, conquering the market with effective management measures. However, many firms faced difficulties.
In that context, the FDI sector had risen and made a significant contribution to the national economy, Vinh said.
Recently, the Government adopted a resolution to improve the efficiency of FDI attraction. According to officials, the MPI has been working to finalise the legal framework on FDI, focusing on the amendment of the Law on Enterprises as well as other relevant documents.
The ministry is also considering the decentralised mechanism in attracting FDI and reviewing its investment promotion activities.