As requested by the government, Vietnamese labor export companies are gearing up to send over 80,000 guest workers abroad in 2007, said Nguyen Thanh Hoa, Head of the Department of Overseas Labor (DOL).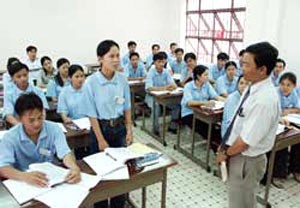 Workers receive vocational and cultural training before departing for host countries to work
"This year, the labor export sector will concentrate on revamping labor training programs to improve worker qualifications before sending them abroad," Mr. Hoa told correspondents last weekend.
 
He added that the Department will mainly focus on markets in the U.S., Canada and Australia as these countries pay the highest wages.
Workers bound for the U.S. for example, will earn minimum wages of US$8-10 per hour depending on which state they wind up in, while those going to Australia can expect to earn US$30,000 per year.
 
Mr. Hoa speculated that if Vietnamese companies can compete in those three markets, they can surely compete anywhere else.
 
In order to ensure that a prospective worker's qualifications meet the standards of the country they plan to work in, the department has urged labor export companies to cooperate with host employers to train workers in advance, especially for the Australian market.
 
The DOL has also submitted plans to their parent organization, the Ministry of Labor, Invalids and Social Affairs, to establish a labor management committee in Dubai that will oversee Vietnamese workers in the Middle East in the last quarter of 2007.