The Central Committee of Vietnamese Young Entrepreneur's Association launched the third Viet Nam Gold Star Award program in Ha Noi on July 12 with a total of 25 commodity industries, up from 20 last year.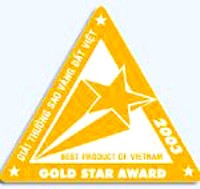 Logo of Viet Nam Gold Star Award
According to the organizing board, the country is speeding up the international economic integration, so the selection criteria are added and upgraded. There are totally 22 creteria groups with a strict scoring evaluation.
Noticeably, the products must be competitive against foreign ones on the international market in terms of quality, price, support services and environment.
The awarding ceremony is planned to be held in Ha Noi on August 31 and televised on the Viet Nam Television Station.
The Vietnamese Yellow Star Award, established in 2003, is one of the four main programs in the Campaign to International Integration of Vietnamese young enterprises and businessmen. The award goes to Vietnamese products and brands that can compete in the international market.