In comparison with other economic corridors of the Greater Mekong Subregion (GMS) (two North-South Economic Corridors, two Southern Economic Corridors), the East-West Economic Corridor (EWEC) has the most feasible conditions, experts remarked in the third Senior Officials' Meeting on the East-West Economic Corridor (SOM EWEC).
The EWEC has moved on to the exploitation phrase, for supporting the socio-economic development of localities along the Corridor, according to the assessment of delegates attending the meeting.

Viet Nam's performance of the EWEC projects

According to results of the survey group, Viet Nam has carried out projects in the corridor most successfully. The projects include upgrading National Road No. 9, constructing a tunnel under Hai Van pass, upgrading Tien Sa port in Da Nang city, first-step implementation of the GMS Agreement on Progress of Road Transport which covers all the relevant aspects of cross-border transport facilitation such as single-stop/single-window customs inspection and transit traffic regimes at Lao Bao-Dansavanh.

Director of International Cooperation Bureau Dao Xuan Hung said Viet Nam has given priority to implementation of the action plan and road map of EWEC which was recommended at the second SOM EWEC, with four big cooperation fields such as development of border economic zones, tourism development, trial implementation of single-stop customs inspection, and shared use of Savannakhet airport (Laos).

So far, the project on upgrading National Road No. 9 is nearing completion. An 83.5 kilometer long road has been upgraded with an investment capital of US$35 million, of which US$25 comes from Asian Development Bank (ADB).

Lao Bao–Densavanh border check-point is under construction and expected to complete in May. The construction of a tunnel under Hai Van pass, with loan from the Japan Bank for International Cooperation (JBIC) has completed and the tunnel has been put into operation since June 2005.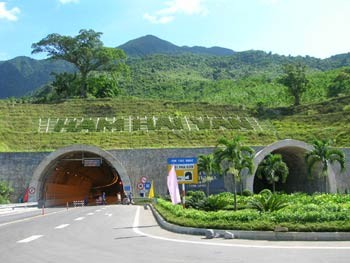 Hai Van Tunnel
The Tien Sa port Project completed in February 2004, helping to increase the port capacity to 2.5 million tons per year in the first stage (1999 - 2004), and 4 million tons per year in the second stage (2004-2010).
In regard to trade and investment, a memorandum of understanding (MOU) was signed on March 25 2005 between the Lao PDR and Viet Nam on implementation of the Cross-Border Transportation Agreement (CBTA) at Lao Bao-Densavanh border . The single-stop/single-window customs inspection and transit traffic regime has also been implemented from June 30, 2005.
In order to execute the decision of the second GMS Summit (at Kunming, China in July 2005), Viet Nam has cooperated with GMS countries to develop various measures with an aim to reduce expenditures and boost trade, investment and business activities in GMS, as well as to simplify and improve customs clearance, goods checking, trading and visa granting procedures.
Concerning energy, Viet Nam has signed GMS Regional Power Interconnection and Power Trade Arrangements, said Mr. Dao Xuan Hung. Based on the agreements, Viet Nam has performed many measures to connect power among regions in or near the Corridor with power supplies, among which is the 500-kV DC line from the Nam Theun 2 Hydropower Project in Lao PDR to Ha Tinh in Viet Nam.
Most noteworthy is the continued construction of the Savannakhet (Lao PDR)-Dong Ha (Quang Tri, Viet Nam) connection which is part of the Telecommunications Backbone Project-Phase I of the GMS.
In the area of tourism, Viet Nam is in the process of determining provinces in the Corridor which are portentially tourist destinations of Viet Nam. Viet Nam and GMS countries have jointly drawn up strategies to develop Mekong tourism and founded a Mekong tourism coordination organization. Also, Vietnamese local authorities have actively pushed for tourism cooperation in the region.
Impacts of the EWEC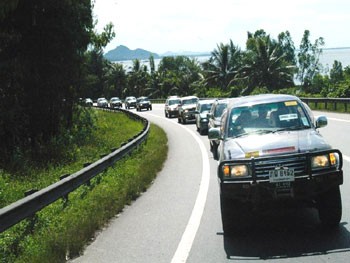 Tourists of Caravan tour on 12 cars going from Bangkok to Da Nang City through the EWEC.
Developing EWEC cooperation projects has directly assisted Viet Nam's provinces along the Corridor to upgrade infrastructures, develop foreign economic relations, promote trade, investment and tourism. This has been very helpful in poverty alleviation, and improving people's lives.
In addition, implementing EWEC projects in various cooperative fields has brought countries in the EWEC closer together and made the EWEC become an important cooperation scheme for countries.
The EWEC cooperation, however, are still facing a lot of difficulties and challenges. Especially, cooperation in the EWEC has so far focused on infrastructure development projects. Therefore, it needs to have a better policy coordination in the cooperation progress to make EWEC become a real economic corridor, not to mention capitals needed for infrastructure and training human resource at localities along the Corridor.
In order to effectively exploit potentials of the EWEC, emphasized Mr. Dao Xuan Hung, apart from continuing to develop industrial sectors and border economic zones, upgrading infrastructures needs to be given priority. A second EWEC, therefore, should be established to connect Northern Midland region of Viet Nam including Nghe An and Thanh Hoa with Sam Nua province of Lao PDR, Northern East of Thailand, and Midland of Myanmar.
East-West Economic Corridor

Objectives

Further strengthen economic cooperation between and among Lao PDR, Myanmar, Thailand, and Viet Nam; reduce transport costs in the Corridor and make the movement of goods and people more efficient; and reduce poverty in the Corridor by supporting the development of rural and border areas, increasing earnings of low-income groups, providing employment opportunities, and promoting tourism.

Participating GMS Countries

Lao PDR, Myanmar, Thailand, and Viet Nam

Programs and Projects

As a result of consultations with EWEC Governments and Provincial Authorities held in February-March 2004, a total of 77 projects/subprojects were identified to comprise the updated EWEC development matrix (DM). These projects fall under the following sectors: (i) Transportation; (ii) Energy; (iii) Telecommunications; (iv) Tourism; (v) Trade Facilitation; (vi) Agriculture; and (vii) Private Investment and Industrial Estates.

Source: ADB

Map of GMS Economic Corridors and Borders