At a meeting on September 7 in Ho Chi Minh City, the Vietnam Food Association (VFA) predicted that Vietnam may be able to export seven million tons of rice this year, after the country's rice exports in August alone touched 928,000 tons, valued at US$398.5 million, the highest ever export of rice in one month.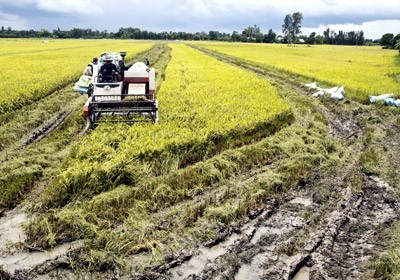 Farmers harvest summer-autumn crop in Dong Thap Province. (Photo: SGGP)
During the first few months of this year, rice exports faced many difficulties with prices dropping sharply and contracts going for lower value than previous years.
Although rice export volumes in the last three months were rather high, exports in the first eight months only reached 5.1 million tons, valued at $2.2 billion, a decrease of 200,000 tons, or more than 4 percent in volume, and 10.2 percent in value compared to the same period last year.
The average export price fell by $30.9 a ton during the first eight months. However, rice prices rose significantly last month, especially around mid August, climbing $40-45 a ton compared to the beginning of the month.
The association explained that prices climbed because of unusual weather in the US and in the region of the Black Sea, said to also be a cause of a poor wheat crop, which indirectly affected rice prices.
However, the volume of summer-autumn rice crop in the Mekong Delta unexpectedly became scarcer than expected as the volume of rice smuggled out through the northern and western borders was rather huge.
Rice consignments to Cambodia moving through three border gates in Dong Thap and An Giang Provinces possibly reached upto 400,000 tons a day. Tinh Bien Border Gate in An Giang Province even saw 5,500 tons of rice being moved out of from Vietnam to Cambodia in a day. In the North, the volume of rice bought by Chinese traders was also significant.
According to Nguyen Van Tien, director of Angimex Company, rice volumes from Cambodia fell sharply and production of summer-autumn crop might also drop by 10-15 percent compared to the same period last year.
Currently, Vietnamese rice prices are higher than in India and Pakistan, from $10 per ton to double or more dollars per ton, especially on 10-percent broken rice and all broken rice.  Rice exports by collective contracts fell sharply to 17.8 percent while rice exports by commercial contracts were at 82.1 percent.
The association said that exports of high-quality rice such as 5 percent broken rice, fragrant rice, and sticky rice, accounted for 62 percent of total rice exports. It forecast that this year rice exports would be higher than the target of 7 million tons. The autumn-winter crop is expected to produce about 2.6 million tons, of which export rice would be around 300,000 tons.
Truong Thanh Phong, chairman of VFA, said that rice exporters should not rush to sign bigger contracts with foreigner buyers as local rice prices are   climbing faster than global prices. He suggested that under the current situation, firms should only sign contracts when they have enough rice in their warehouses to fulfill the contracts. Firms should also closely watch movements in domestic and global markets such as drought in the Black Sea region and the US which is expected to damage 50-60 percent of wheat production; high rice inventory in India; effects of El Nino in Indonesia; and actual demand from the Philippines.
As to the problem of Vietnamese rice being sold to Thailand via the Cambodian border, it is seen that Thai traders only stop buying Vietnamese rice when prices surge above VND9,000 per kilo.