U.S. Export-Import Bank chairman and president Fred P. Hochberg is leading a business-development mission in Vietnam on February 5 – 8, which he said funding of almost US$1.5 billion in critical infrastructure projects are currently in discussion.
The infrastructure projects include satellite, thermal power, and renewable energy ones, according to the Ex-Im Bank chairman, who had a press briefing at the U.S. Consulate General in Ho Chi Minh City Feb. 6.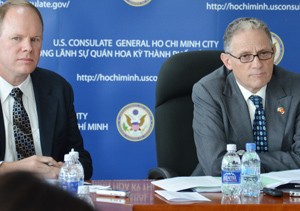 U.S. Export-Import Bank chairman and president Fred Hochberg (R) gives a press briefing at the U.S. Consulate General in Ho Chi Minh City on Feb. 6, 2012
"We are here to roll up our sleeves and get these transactions done," Hochberg said in a statement. "Vietnam's infrastructure continues to develop at a rapid rate, and I want to make certain that high-quality American goods and services are available for these projects."
In connection with these projects, there is also an additional US$500 million in financing that the American bank hopes to close on in the near future, according to the lender.
In 2011, Ex-Im Bank authorized only about US$1 million in financing to Vietnam.
Hochberg is set to meet with government leaders in both Ho Chi Minh City and Hanoi to boost commercial ties and business opportunities between the two countries. Ex-Im Director Patricia Loui and other senior officials are traveling with him.
U.S. small and mid-sized businesses interested in obtaining financing support for sales to Vietnam and other key countries should contact their Regional Export Finance Center at 1-800-565-EXIM (3946) and selecting option 2.
Vietnamese businesses interested in learning about competitive financing that may be available for purchases of U.S. goods and services should contact the U.S. Foreign Commercial Service office in Hanoi at 4-3850-5199 and Ho Chi Minh City at 8-3520-4680.
The American bank's funding is the fulfillment of two existing memoranda of understanding signed in 2010 and 2011 totaling US$1.5 billion. The earlier MOU was signed between Ex-Im Bank and the Vietnam Development Bank, and the later one between Ex-Im Bank and Vietnam's Ministry of Industry and Trade.
The MOUs called for the facilitation of U.S. exports to Vietnam in key sectors such as air transportation, power generation and transmission, and oil and gas development
Ex-Im Bank president Hochberg is due to meet with Vietnamese Prime Minister Nguyen Tan Dung, Finance Minister Vuong Dinh Hue, the chief executives of the Electricity of Vietnam Group, National Power Transmission Corporation, and Vietnam Development Bank.
"Vietnam is a country of enormous potential, and it is vital that we work together and invest in projects that benefit both of our economies," Hochberg said in Monday's statement.
"Significant infrastructure developments are planned throughout Vietnam over the next several years, and I'm here to ensure that American companies invest in those projects, and that we maintain a dynamic and comprehensive partnership," he added.
The American bank says its current exposure to Vietnam is US$175.8 million.
It also says Vietnam is one of its nine key markets where Ex-Im Bank is focusing its business-development efforts because of the country's infrastructure and development needs. The others are Brazil, Colombia, Mexico, Turkey, South Africa, Nigeria, India, and Indonesia.

Asia is Ex-Im Bank's largest regional market, the lender adds.