Quotas imposed on Vietnamese clothing products exported to the US were abolished yesterday, the Trade Ministry said.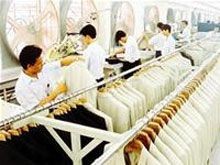 The U.S. no longer imposes quotas on clothing products imported from Viet Nam
As a result, Vietnamese exporters will no longer have to apply for export visas at the Import/Export Management Department of the Trade Ministry. They will only need to follow export procedures at customs offices.
 
In related news, exporters have voiced opinions about proposals made by the Viet Nam Garment and Apparel Association (Vitas) on how to handle U.S. supervision of Vietnamese clothing products.
 
Some 86 percent of respondents were in favor with the issuance of export certificates, 97 percent agreed on monitoring minimum prices and 82 percent said the Import/Export Management Department and the Viet Nam Chamber of Commerce and Industry should jointly issue certificates of origin.
 
The Ministry of Trade and Industry, along with Vitas, will submit these opinions to the Government for guidance.