Vietnam Chamber of Commerce and Industry has been put on onus to conduct a project on reviewing business laws, according to an agreement signed this week between the chamber and the UK government which will financially support the project.

Within the agreement, Vietnam Chamber of Commerce and Industry, also known as VCCI, will lead the project to review and develop recommendation papers and reports concerning 16 important laws to improve the investment and business environment for domestic and international businesses as well as citizens.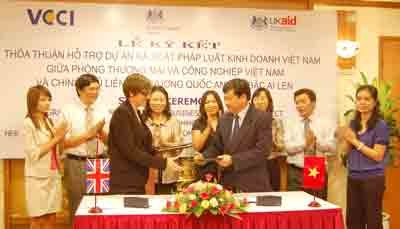 At UK-VCCI signing ceremony (Photo: Courtesy of British Embassy)
The papers will provide evidence and comments from stakeholders in civil society and the private sector (including foreign businesses) about current problems in implementing these laws, and how they can be improved through better implementation, repeal and amendment, etc.

"The project will support further improvement of the business environment and the legal system which governs it in Vietnam. This will boost the sustainable development of Vietnamese enterprises and enhance the competitiveness of Vietnam's economy in an increasingly globalized world," Ms Kate Harrisson, Charge d'Affaires at the British Embassy in Hanoi said.

The laws to be reviewed include the Accounting Law, Law on Value Added Tax, Law on Corporate Income Tax, Law on Tax Management, Law on Customs, Law on Land, Law on Real Estate Business, Law on Construction, The Enterprise Law, Investment Law, Law on Tendering, Commercial Law, Environment Law, Maritime Code, Civil Code and Intellectual Property Rights.

Updates on the project will be posted on VCCI website (www.vibonline.com.vn; www.luatsuadoi.vibonline.com.vn). Several workshops concering the issue will also take place in Hanoi and Ho Chi Minh City.