Twelve people, most of them foreign tourists, died Thursday when their tour boat sank in Vietnam's famed Ha Long Bay, a government official said.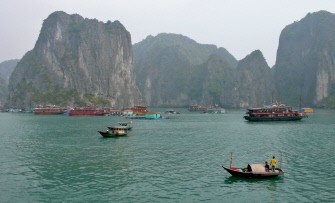 Ha Long Bay
Some survivors were plucked from the water by local fishermen following the pre-dawn disaster at one of the country's most popular tourist destinations, renowned for its many limestone towers.
"We recovered the bodies of five foreign tourists and a Vietnamese tourist," said Vu Van Thin, a senior official with the Quang Ninh province People's Committee, the local government.
The nationalities were not immediately clear, he said, adding that about six other foreign tourists were missing.
The boat was carrying a total of 19 foreign visitors and two Vietnamese at the time, said Doan Manh Linh, assistant director at Quang Ninh's Department of Culture, Sports and Tourism.
"Some tourists were saved by local fishermen," Linh said.
The Dan Tri news website quoted Do Thong, vice-president of the People's Committee, as saying the foreigners came from a variety of Western countries.
About 10 of them were rescued at around 0200 GMT Thursday and taken to hospital, he said.
Dan Tri said the accident occurred just before dawn.
"According to our initial information part of the boat suddenly broke," but bad weather was not to blame, Thin told AFP.
Many Ha Long Bay tour boats have dining facilities and cabins for tourists to spend the night on the waters.
Ha Long Bay, located in the Gulf of Tonkin about 160 kilometres (100 miles) east of the capital Hanoi, was declared a UNESCO World Heritage site in 1994.
Its 1,600 islands and islets form a spectacular seascape of mostly uninhabited limestone pillars made famous by the 1992 French movie "Indochine".
It is not the first time disaster has struck at the popular tourist attraction.
In September 2009 three foreign tourists -- two from Britain and one from France -- died along with their local guide when their vessel overturned during heavy rain on the bay.
Official data show that in the first 10 months of last year more than 2.3 million tourists visited Ha Long Bay, roughly evenly split between local visitors and foreigners, with almost 200,000 boat trips during the period.