Soon after the announcement of a rise in petrol prices yesterday, many transport companies said they would follow suit.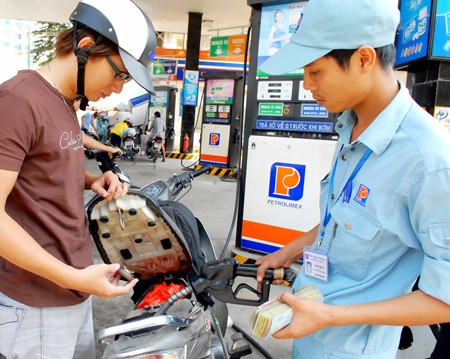 Customer filling petrol at a gas station in Ho Chi Minh City. (Photo:SGGP)
Ta Long Hy, director of Vinasun Taxi Company and chairman of the Ho Chi Minh City      Taxi Association said that even though petrol prices had increased by VND2, 900 per litre, the taxi firms were still plying at the same rates. They would subsequently incur losses if they did not raise their fees.
Hy said that with 4,000 cars, his company had to subsidize VND28-30 million every month to pay for the deficit in fuel costs, which is affecting business operations.
Passenger transport service providers are considering raising their transport fees, though until now there is no confirmation to that effect as yet. The association was considering raising the transport fee by 10 percent, equivalent to VND1, 000 per kilometre.
According to the Ministry of Finance, if the government does not use subsidies to pay for the petrol prices, fuel prices would raise by VND6.493 per litre for gasoline, VND6, 260 per litre for diesel, VND6.692 for oil and VND4, 334 for mazut.
Increasing rate of petrol prices in Vietnam are still lower than in Cambodia where they are VND4, 200 per litre, Laos with VND5, 100 per litre and China with VND3, 200 per litre.
According to Nguyen Manh Hung, Chairman of the Vietnam Automobile and Transport Association, transport fees will surely increase by at least 10 percent. Bank interest rates and increased electricity prices may push transport fees even further to 15-20 percent.
Hung stated that transport firms have to go through complicated procedures to raise transport fees as the state does not control the transport fees. Enterprises have to get permission for raising fees from relevant ministries, print new tickets and adjust taxi meters. Under the regulation, it takes 7-10 days to complete procedures, so any new transport fee will only be valid by the beginning of March.
In Hanoi on February 24, some taxi firms decided to subsidize drivers to pay for the increased petrol prices and are in an ongoing discussion on how to increase the transport fee as well. The increase could be by 15-20 percent.
According to Vietnam Railway Corporation, rail transport fees are expected to rise by April 1 by 25 percent. The highest price is expected on the SE1-2 and SE3-4 routes and on the route from Hanoi to Quang Binh – Hue – Da Nang – Nha Trang and vice versa.
Vietnam Airlines and Jetstar Pacific have sent documents to the Civil Aviation Administration of Vietnam for permission to raise ticket prices. Jetstar Pacific has asked to increase ceiling ticket prices to VND4 million (US$200) on one way routes.
Vietnam Airlines has asked to increase ceiling ticket prices to VND2.4 ($120) for one way, instead of the current price VND2.1 million ($100) applicable on the route from Hanoi to Ho Chi Minh City.
The Ministry of Finance has decided to raise A92 petrol prices by VND2.900 per litre to VND19, 300 per litre, along with prices of diesel, oil and mazut. The price increase took effect as of 10 am on February 25.
Recently, the price of petrol and oil in Singapore has increased sharply. On February 22, the price of A92 petrol rose to US$112 per barrel, while the price of diesel and oil increased to $123-125 per barrel.