For the very first time, the Department of Industry and Trade and the Economic University in Ho Chi Minh City will jointly run short training courses on market management for managers and retailers from September 17, with the aim of improving management and sales skills to attract customers to traditional markets.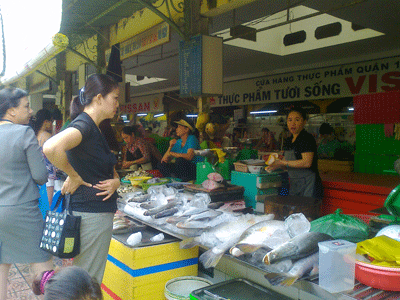 Retailers change their mannerisms towards customers if they perceive the customers will pay more (Photo: U. Phuong)
In the race between supermarkets, convenient stores and traditional markets, the first two seem to have the upper hand as commodities there are displayed on luxurious shelves, clean environment and customers do not fear overpricing or insulting jibes from shop owners.
According to the Department of Industry and Trade, there are 243 traditional markets in HCMC, including 17 first class markets, 48 second class markets and 178 third class markets with 66,598 retail booths and 729 managers.
Le Ngoc Dao, deputy head of the department, said market managers have never been properly trained while it requires better management skills to both manage and set up relations with shopkeepers and customers.
In reality, skilled marketing management will see better sales and no rude or offensive behavior from sales people towards customers who browse but do not buy.
The whole aim of the course is to train market managers to raise effectiveness and revenues, while building a better and appealing image. Managers will receive knowledge of business methodologies, effective methods of brand promotion, commodity control and environmental hygiene.
Managers will be taught five classes on government policies, decrees of management power, management studies, and skills in dealing with complaints and how to develop markets.
So far 2,115 market retailers are participating in such training courses, accounting to a total of three percent. The training course will also provide general knowledge on financial policies, civilized behavior towards customers and retailing skills.
The most important part of the course is to improve communication skills and contribute towards the campaign "Be Vietnamese, Buy Vietnamese". The course will also provide an opportunity for   enterprises to have meetings with retailers and discuss their products and after-sales services.
The Business Studies and Assistance Center (BSA) will from this month launch a sales training course for retailers in some markets in HCMC. The course offers techniques to display commodities to attract customers and ways to present and speak to customers. 
For instance, more than 100 shop assistants joined in a training course at Ba Diem Market in Hoc Mon District held by BSA. When the course wrapped up, retailers admitted their bad habit of giving a dirty look and behaving badly with customers who do purchase from them.  They promised to change this despicable habit as they realized that the customer is the one who gives the money and hence is the one who is always right.
Managers and retailers are excited about the training course as they are keen to lure more customers and increase revenue. They also wanted the government to spend more money to upgrade traditional markets so that they look more appealing and attractive and also provide tough competition to the more modern supermarkets and convenient stores that have sprung up all over the City.